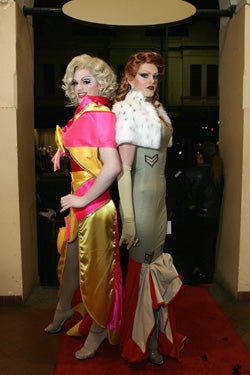 Welcome to the Drag Industry Variety Awards 2008 (that's right, the DIVAs) at Sydney's Paddington Town Hall. Othelia Sharft, Fagget Roaster, Freeda Corset, Prada Tlutch and a cast of thousands channeled all the arts of man and nature in their quest for drag fabulosity. The results? Magic. The Sublime, the Ridiculous, the Gravity-Defying - after the jump!



The Good:
White mice + fishing nets = "Do" for Courtney Act .
Mitsy Mackintosh channels Carolina Herrera, Daily Mail.
Othelia Sharft works Givenchy, Carmen Miranda, and Manga with elan.
Polly De Petrie and John Richards: Liberace, squash and regal dignity.
Blue Angel-era Marlene Dietrich crossed with the Artful Dodger is a 10 for Rhys Bobridge.
The Bad:
Veronica lake? Vinyl? Yawn, Fagget Roaster.
Frank N. Furter is a classic, but Freeda Corset's interpretation just doesn't feel fresh.
Vanity Faire's riff on Little Red Riding Hood is literal, a little '96.
Nice homage, Prada Tlutch, but 27 Dresses blew.
The Ugly:
Don't know what Maxy Shield is actually going for, but it's seriously reminding us of the Montauk Creature in a dickie.
Images via Getty