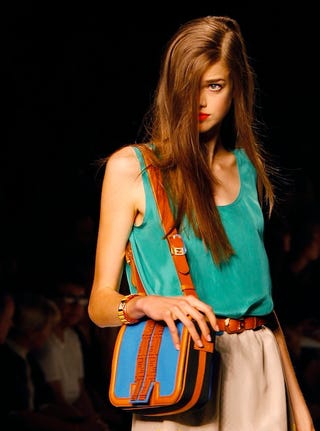 So what did the Kaiser give us? Color, sophistication, and some really odd suiting. Naturally, this being Fendi, shoes and bags were kind of the stars. For good and bad...
At least your Halloween costume would be taken care of. Provided, that is, you were going as a late Yves Klein.



The bags were classic, brightened with saturated color.



The Kaiser's take on pastoral romance, presumably.



Yacht, paps included.



Reminiscent of my 1st Grade teacher — in a really great way.



Fresh, vibrant, eminently "wearable."



The shoes are sculptural — and maybe better suited to gazing than walking.



Although we could look all day!



Here is what we do: we remake Working Girl. We have Lagerfeld design the costumes. It's a pale shadow of its former self, but the clothes are rad.



Like we said, hard to walk in.