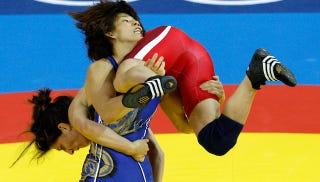 Ten years ago, female wrestlers Arezou Mansourian, Lauren Mancuso and Christine Wing-Si sued the University of California, Davis for, they said, violating Title IX in offering equal opportunity to female athletes. Today, they got their ruling, a mixed one in which both sides claimed victory.
The judge said that UC Davis had, in fact, inadequately complied with Title IX by not offering enough opportunities for women but that the women hadn't proved that university administrators had deliberately discriminated against them. He limited the monetary damages they could seek.
The women were on the men's wrestling team, and when they were cut they argued that they had unfairly had to compete against male wrestlers. The judge found that they had been cut for lack of skill but that UC Davis had failed to provide enough athletic opportunities for women at the time of the filing. While he found that the individual administrators acted in good faith, the university cut more the 60 slots for female athletes around the same time.
Both sides hailed the decision, in part because it clarified the legal ambiguities surrounding Title IX compliance at universities.
California-Davis Violated Title IX, Judge Rules [NYT]
Split Ruling in Title IX Case at U. of California Campus Allows Both Sides to Claim Victory [Chronicle]