Over the weekend, reports from the much-anticipated Afghanistan election bega to show that turnout among women was low. Really low. Election officials estimate that about 650 of the polling places for women never opened.
Women on Afghanistan's election day faced what the New York Times is calling "disproportionate obstacles."
Hundreds of polling stations for women (stations throughout the country were segregated to keep men and women from publicly mingling) did not even open in some areas where Taliban influence is high, but women also suffered discrimination and intimidation in some places in central and northern Afghanistan. Female candidates received threats and were largely ignored in news coverage of the elections, the observers said.
The executive director of Women for Afghan Women said in an email to supporters that there were actually fewer attacks than expected, but that local news reports counted 135 rocket attacks and estimate 20 people were killed.
Officials with Free and Fair Elections in Afghanistan sent more than 7,000 observers to serve as watchdogs over the voting process. One official witnessed two women in the Kandahar province have their fingers cut off after casting votes.
G/O Media may get a commission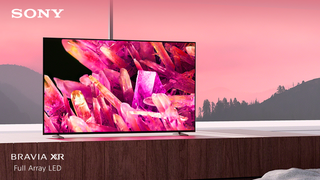 $400 off
Sony 55 Inch 4K Ultra HD TV X90K Series
The elections in Afghanistan remind us of Iran's tumultuous election earlier this summer. But Malcolm Potts, an academic at University of California-Berkeley, says that the parallels to Iran don't just end there.
In the 1980s, the typical Iranian woman had almost as many children as her counterpart in Afghanistan today. Even an oil-rich country could not support that rate of population growth. The Koran mentions contraception in a positive light, and Ayatollah Ruhollah Khomeini, the religious leader and founder of Iran's Islamic Republic, endorsed family planning. Iran began to offer a full range of contraceptive choices and even voluntary sterilization. Before young couples could marry, they were required to receive family-planning instruction.

The typical Iranian woman now has 2.1 children. The transition in Iran from high to low birthrates was as rapid as that in China, but without a one-child policy, and it has had similar social benefits. Maternal and infant mortality have fallen, and, despite repressive politics, the U.N. Human Development Index, using such measures as education and individual wealth, shows that the country is better off.
These things might seem unrelated, but they aren't. Potts argues something that has become conventional wisdom among the international development community: by increasing the rights of women to control their own reproduction through family planning, you can actually make the country as a whole better. Giving that fundamental right over their own bodies suggests a shift in how they view women, as valuable and autonomous members of the country as a whole.
Potts calls Afghanistan "one of the worst places in the world to be a woman." This, after all, is the same government that passed a law that would have made marital rape legal. (The law was later reversed by President Karzai, but making marital rape illegal won't make it disappear.)
There are signs, though, that policies in Afghanistan will be more focused on the rights of women. Secretary of State Hillary Clinton noted in an interview with the NYT's Sunday magazine that building more rights for Afghanistan women is an important part of the Obama administration's foreign policy.
"When we did our strategic review on Afghanistan, we said very clearly, We can't be all things to all people in Afghanistan. We have to focus on a few critical concerns. But one of them was the role of women, and women's participation in society."
Intimidation And Fraud Observed In Afghan Election [NYT]
Voting In Kabul [The Nation]
Observers Cite Fraud In Afghan Elections [WSJ]
The War For Afghanistan's Women [LA Times]
A New Gender Agenda [NYT]