A controversy has broken out in the tennis world, with commentators, players, fans and even Martina Navratilova debating whether female tennis players' oral outbursts are as fake as Meg Ryan's, and designed to help them cheat their opponents.
Although, in the 70s, Jimmy Connors was known for his loud exhalations and, in the 80s, Andre Agassi wasn't quiet on the courts, the age of the female "grunt" — which is louder and more sustained than one would think a grunt is — was ushered in by Monica Seles, with feats of oral excess topping out at about 93.2 decibels. Her successor is Maria Sharapova, whose euphemistically-entitled "grunts" are actually 101 decibels — 9 decibels shy of a lion's roar. Although she and many athletes claim they are completely unconscious, witnesses at her warm-ups at Wimbledon notice that her game is equally forceful... and her grunts are completely absent.
Portuguese player Michelle Larcher de Brito is reportedly even louder and, more suspiciously, her "grunts" last from the moment the ball hits her racket until it reaches the racket of her opponent. At the French Open earlier this month, her opponent complained the entire match and the entire issue made headlines.
In response, tennis great Martina Navratilova said she thinks grunting is little more than cheating.
I started having issues with it when I was playing Monica Seles back in the early 1990s. She was one of the first, and I didn't like it one bit. It affected my game because to me it is important to hear the ball hit the racket; you can hear a bad shot before you can see it and the sound is an imperative part of the game.
Screams like de Brito's that not only camouflage her own hit but the touch of the ball on the court are not just distracting but interfering with her opponent, in Navratilova's opinion.
Interestingly, the players most well-known for "grunting" — Monica Seles, who reportedly learned it elsewhere but brought it with her, Maria Sharapova, Andre Agassi, the Williams sisters and now de Brita — all trained at the same tennis school. That school is run Nick Bollettieri, who denies teaching his players to scream to throw off their opponents. They just, you know, all happen to do so with increasing volume and frequency.
G/O Media may get a commission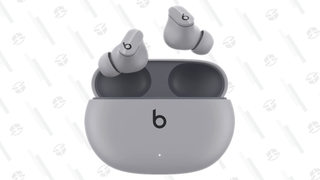 One More Grunt And You're Out: Wimbledon To Crack Down After Complaints [London Times]
Wimbledon 2009: Maria Sharapova's Siren Call To Opposition [Telegraph]
Martina Navratilova: The Grunting Has To Stop [Times of London]
Not More Screechers Polluting The Air! [IOL Spot]
Grunt Music: An Analysis Of Tennis Screams and Battle Shrieks [Bleacher Report]
NBTA/IMG Academies 1987 - Present [Nick Botllettieri]