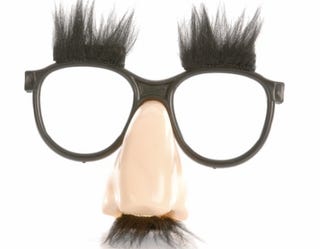 Seven years ago, Alison Jane Lee, 41, wore a mask low over her face and pulled a gun on two convenience stores within a matter of minutes.
Apparently, Lee panicked and fled the first store and then ran to the next one, where she panicked again upon hearing the sound of the store's alarm. The crime was caught on tape and one of the store employees described the robber as "male" with a "black mustache."
Police were unable to find the suspect until Lee was caught committing another crime and advances in technology were able to link her to the 2004 incidents, despite her very convincing mustache. And now she's been convicted of attempted robbery and possession of an imitation gun.
Woman robber wore fake 'tache [The Sun]