A female line official is causing one British football commentator to opine that all such officials should be women. The reasoning is interesting, but (mostly) wrongheaded.
Blogger Early Doors rightly calls out commentators Richard Keys and Andy Gray for their sexist conversation about line official Sian Massey:
Keys: "Somebody better get down there and explain offside to her."

Gray: "Can you believe that? A female linesman. Women don't know the offside rule."

Keys: "Course they don't."
ED wrote that this exchange was "stupid and suggests entrenched sexist attitudes." Then, however, he recommended "that every match official at every Premier League game should be female." The reason: players would be less likely to surround and berate officials, and more likely to treat them "like human beings." Explains ED, "by switching to women-only officiating teams, the FA could force them to use that part of the brain that makes you exercise a modicum of self-control before launching that foul-mouthed tirade."
First of all, it's by no means true that the presence of a woman is always keeps men (or women, for that matter) from launching "foul-mouthed tirades." And though ED's heart is in the right place here, the idea of women as a civilizing force on male behavior is ancient and none too complimentary to women. Odds are Sian Massey just wants to do her job — not be responsible for making footballers nicer. Rather than expecting ladies to make all-male environments more polite in general, we should focus on allowing them to operate safely and freely in those environments — whether it ultimately leads to less yelling or not. With this goal in view, the second part of ED's argument makes a bit more sense: "who knows, prolonged exposure to the reality that women are just as good as men at counting defenders might just erode the brainless sexism demonstrated by Keys and Gray?"
I wouldn't advocate eliminating all male officials in a bid to make sportscasters less sexist. But I do think involving more women at all levels of athletics might help change the misogynist climate that appears to afflict US and UK sports alike.
G/O Media may get a commission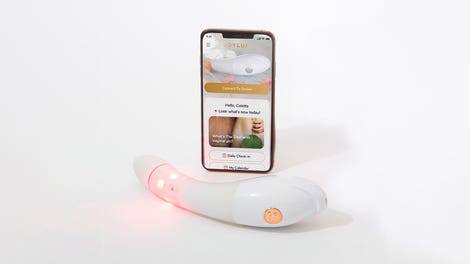 $50 Off
Joylux vFit Gold Device
Why All Officials Should Be Women [Early Doors]