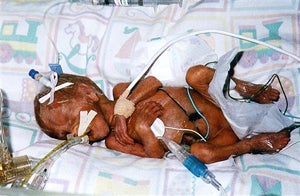 Despite what the Cabbage Patch Kids would like you to believe about the cuteness of preemies, with their little incubators built out of lettuce, real babies born prematurely babies can suffer lifelong consequences after coming out of the womb early. According to a study published in the new edition of the Journal of the American Medical Association, children born prematurely are less likely to graduate from high school and have babies of their own. Women who were preemies who do have children, USA Today notes, are more likely to have stillborn or premature births than women who were born after a full gestation period. Preemies are also less likely to get married, though doctors aren't sure why. Study leader Dr. Geeta Swami of Duke University Medical Center posits that medical problems plaguing preemies could be putting a possible damper on their future marriage prospects.
Though women have to deal with the repercussions of being a preemie on their reproductive health, men born prematurely have it a worse lot overall. Baby boys from developed nations are 60% more likely to be premature, reports Science Daily, and are also more likely to suffer complications from being born premature. Boys are also "at a higher risk of birth injury and mortality due to their larger body and head," according to Science Daily.
In the United States, premature births have risen steadily in the past two decades, due in part to the growing popularity of fertility treatments and the increase in older mothers. The rate of preemies in the U.S. in 2006 was 12.7%, says MSNBC, while the rate of preemies in Norway was a mere 7%. More premature babies are surviving than ever before because of medical breakthroughs, but study leader Dr. Swamy wonders, "Are we improving their survival but at the expense of significant problems down the road?"
Study: Premature Birth Has Lingering Effects [USA Today]
Preemies' Death Risks Continue Into Childhood [MSNBC]
Baby Boys Are More Likely To Die Than Baby Girls [Science Daily]
Earlier: The Miracle Of Life