Indian women are lucky if they can beat the odds against them — such as low education levels and traditions that uphold gender bias, like early marriage — to live the lives they envision for themselves and their families. But now, the middle-class women who do manage to graduate from higher education and are financially solvent enough to go into lucrative fields like consulting or banking would, well, rather not. For example, take Bavleen Sawhney, a top-ranking graduate of Ohio State University who told Bloomberg that she'd rather be a personal shopper than toil away in a managerial position:
"I've told my dad I don't want to work," said Sawhney, 22, who travels around New Delhi's malls in a chauffeured sedan to browse shoes by Jimmy Choo Ltd. and handbags from Bottega Veneta Srl for wealthy clients. "A nine-to-five job doesn't suit me."
More women are studying at Indian universities, too — the number of women working towards commerce-related degrees in Indian universities per 100 men almost quadrupled to 63 from 1980 to 2002 — but once they graduate, they return home in droves. Only 22 percent of India's female graduates are working women, which is lower than even the number of illiterate women entering the workforce. And they're contributing to a huge national problem: "a shortage of technical, professional and managerial staff that Prime Minister Manmohan Singh says is constraining growth."
India ranks very low on the World Economic Forum's ranking of gender parity in economic participation, scoring above only Turkey, Saudi Arabia, Pakistan and Yemen. National incomes would rise by more than 12 percent by 2025 and gross domestic product would increase by $110 billion in a decade if just half of India's working-age women joined the workforce. But what's in it for the ladies, especially those who want to start families, and only have to pay paltry amounts to afford lavish lifestyles with full time household help? ("Helpers" that cook and clean only cost about $151 a month in India's capital.)
Both businesses and the government are scrambling to entice women to get into the 9-5 mentality. "Especially for women for whom the economic need is less, the challenge is finding them work that is interesting and challenging, and also making them feel rewarded," said Naina Lal Kidwai, the head of HSBC Holdings Plc in India, which offers incentives like flexible hours and sabbaticals. Some companies try to portray their work environments as young and carefree, while others offer lengthy maternity leaves. There are also "Second Career Internship Programs" which have been successful. India has outlawed pay discrimination and marriages for women under 18, and is considering a bill that would reserve a third of Parliament seats for women.
Here's the thing, though: the goal for many employed people is to make enough money to eventually relax, reap the financial rewards, and support their families. If women don't have to actually be employed to do all that, can they really be convinced go back to work for the good of their country? The title of the Bloomberg piece seems a bit sexist — "Jimmy Choos Luring Indian Women Graduates From Work" — but let's all ask ourselves an honest question. If you could enjoy your ideal lifestyle without working an office job, wouldn't you?
G/O Media may get a commission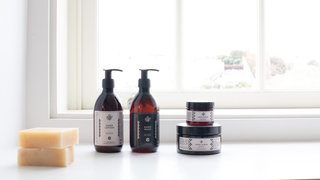 Exfoliate and Hydrate
The Handmade Soap Company
Jimmy Choos Luring Indian Women Graduates From Work: Jobs [Bloomberg News]
Image via Warren Goldswain/Shutterstock.