Our legal system can sometimes seem like a lurching, inefficient machine that only works after a few well-placed blows from a wrench and some irrational pleading, but it's our legal system and we're stuck with it even when shit like this happens: a federal appeals court on Friday temporarily blocked a law that bans gay conversion therapy, whichs seems like a practice with about as much clinical credibility as blood letting.
CBS reports that a three-judge panel of the 9th U.S. Circuit Court of Appeals issued an emergency order putting the law (which was set to take effect Jan. 1) on hold until it can hear more arguments from Christian legal groups like the Liberty Counsel who have worried their civic-minded hearts sick that a ban on gay conversion therapy is an infringement on their First Amendment rights. Earlier in the fall, Gov. Jerry Brown had signed the law banning conversion therapies. It states that "sexual orientation change efforts" on clients under 18 would constitute engaging in unprofessional conduct, and would be therefore subject to to discipline by state hearing boards.
Christian groups immediately vowed to strike back against the ban, and their efforts to argue that SB1172 violates the First Amendment rights of therapists and parents earned the tepid support of U.S. District Judge William Shubb. Though U.S. District Judge Kimberly Mueller refused to block SB1172 on the grounds that opponents who have sued in her Sacramento court would be unlikely to prove that a ban on "conversion" therapies threatens their First Amendment rights, Shubb found the First Amendment argument compelling enough to order the state to exempt three people (two mental health providers and a former patient who is studying to practice conversion therapy) from the ban.
G/O Media may get a commission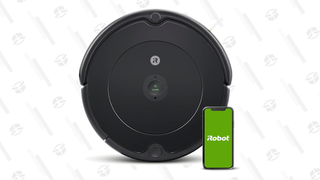 35% Off Black Friday Deal
iRobot Roomba 694 Robot Vacuum
Court blocks Calif. law banning gay therapy [CBS]