Marie Colvin, an American war reporter who wrote for the British Sunday Times, was killed today in Homs, Syria. Her death sheds light on the issue she spent her life documenting: violence against noncombatants.
Looking at pictures of Colvin, it's hard to believe a woman this badass is actually dead. According to MSNBC, after a piece of shrapnel injured her eye in 2001, she always wore an eye patch. She said she wouldn't "hang up my flak jacket" after that injury — and of her decision to return to war zones, she asked, "So, was I stupid? Stupid I would feel writing a column about the dinner party I went to last night." Instead, she continued reporting on war and its effects on women and children. In her last interview with Anderson Cooper yesterday, she debunked the Syrian regime's claim that it wasn't attacking civilians:
Every civilian house has been hit. we're talking a poor popular neighborhood. The top floor of the building I'm in has been hit, in fact, totally destroyed. There are no military targets here. There is the free Syrian army. Heavily outnumbered and outgunned only Kalashnikovs and rocket propelled grenades. They don't have a base. There are a lot of young men killed, teenaged young men, and they're trying to get the wounded to some kind of medical treatment. It's a complete and utter lie they're only going after terrorists.
She also said that the conflict in Homs was the worst she'd ever covered: "It's partly personal safety, I guess, there's nowhere to run." A few hours later, the house Colvin was staying in was shelled; she and other journalists were apparently hit with a rocket when they tried to flee. Colvin and French journalist Remi Ochlik were killed; reporter Edith Bouvier and photographer Paul Conroy were reportedly injured. The Times suggests Syrian security forces might have specifically targeted them.
Colvin and Ochlik's deaths have intensified Western anger against Bashar Assad's government. A US State Dept. spokesperson said, "This tragic incident is another example of the shameless brutality of the Assad regime." Nicholas Sarkozy was more blunt: "That's enough now, the regime must go." A meeting of over 70 countries is scheduled for this Friday to discuss turning up the pressure on Assad — almost 9,000 people have reportedly died in his recent crackdown. It's unclear whether Colvin's death will affect that meeting, but it's definitely raised the profile of the Syrian conflict in the West. After her eye injury, Colvin wrote, "the next war I cover, I'll be more awed than ever by the quiet bravery of civilians who endure far more than I ever will. They must stay where they are; I can come home to London." Colvin won't be coming home anymore, but she helped expose what civilians in Syria go through every day. Hopefully, her life's work will ultimately make their home safer.
G/O Media may get a commission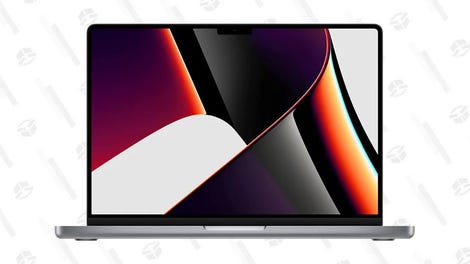 Save $300
2021 14" 1TB MacBook Pro
Journalists Marie Colvin, Remi Ochlik killed in Syria, activists and French official say [MSNBC]
Marie Colvin focused reporting on women, children [AP, via CBS]
Marie Colvin's Final Interview With Anderson Cooper Before Her Tragic Death In Syria [Mediaite]
Global meeting on Syria faces pressure [CNN]
2 Journalists Among the Dead in Syrian Onslaught [NYT]