On a Wednesday night in mid-November, I arrived at Painting Lounge with a bottle of wine in my left hand, bracing myself for the worst.
The studio is located in Chelsea, on the fourth floor of a nondescript office building on 14th Street; when I opened the door, I was immediately struck by the technicolor array of paint-it-yourself kitsch. There were sunsets, tree-lined sidewalks, and imitations of the usual all-stars: Picasso, Munch, Dali, Magritte, Monet, and of course, Van Gogh, the artist I'm to pay homage to tonight, with a "starry night" version of the Empire State Building.
For a while, I've been curious about these wine-heavy identical-painting classes: how could such blandly commodified creativity have such mass appeal? Specifically, the aesthetic of paint-and-sip studios seemed to be a final nail in the coffin of impressionism, long demoted from avant-garde to Hallmark card. I've got nothing against painting classes, and I love to draw and color. But there's something disheartening about the idea of walking into a strip mall in Tampa or an office building in Manhattan and walking out with a crappy imitation of a master like Van Gogh.
At Painting Lounge, I barely had time to take in the scene before Casey, our instructor, greeted me with a smile, directing me to grab a smock and take a seat. Each place was set up with an easel, a canvas, three paintbrushes—"large, medium and small," Casey told us—and a plate of paint. The rest of the class streamed in around me, about 35 other young professionals (mostly women), all wearing paint-splattered aprons. They poured glasses of wine and set out snacks. A loud group of about ten friends behind me dug into the first of two two pizzas. I was jealous of their snack game, and felt transported back to grade school. I sat quietly and waited to be told what to do.
Casey, who said she also works as an actress, introduced herself and began her spiel. Our canvases, she pointed out, were already set up with a stencil outline of the Empire State Building. "But the rest is up to you," said Casey. We didn't even have to paint a starry night at all!
G/O Media may get a commission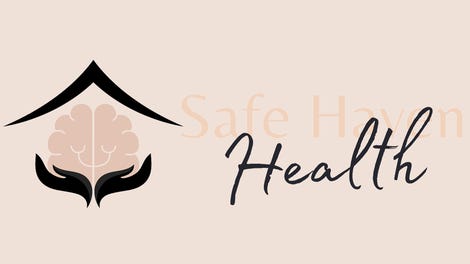 Addiction counseling
Safe Haven Health
"You can be messy," she added. "It's like a play date at your friend's house."
As Casey led us through the steps (the stars come first, etc), I stuck mostly to myself. But after one glass of wine down, I chatted up my neighbors, and we complimented each other on our interpretations of the work. The six women to my left work together in advertising, they told me. They were there for a team building event. All of our starry nights started taking shape: I opted against the gaudy pink and purple accents Casey added to her example Empire State, sticking instead to a blue and yellow palette befitting the late Mr. Van Gogh. If I'm going to imitate him, I thought, I might as well do it right.
By the end of class, I felt totally relaxed. I hadn't even touched my cup of wine in an hour. I was too focused on asking Casey if she could bring me some more white paint for my starry swirls; I spent 15 minutes getting the light to hit the side of my building just so. I didn't want the class to end.
---
The basic premise of each paint-and-sip class is the same: customers drink wine or beer while an instructor guides them, step by step, through a predetermined painting. Though there's no nationally dominant brand name yet, wine studios have cropped up all over America: most are one-offs or mini-chains, with cutesy names like Pinot's Palette, Art Class Wine Glass, Vino Van Gogh, The Uncorked Artist, and the Painted Cabernet. If you run a quick Google news search of "paint and sip" or "paint and wine," you'll find at least a story a week over the past year announcing the arrival of yet another wine-heavy painting class in a U.S. town.
It's impossible to say who came up with the idea of cracking a bottle of Bordeaux in a paint studio—that tradition is surely as old as art (and wine) itself. But credit for the first contemporary paint and wine class goes to Cathy Deano and Renee Maloney, founders of Louisiana-based Painting with a Twist.
The two women came up with the idea while walking through their neighborhood after Hurricane Katrina flooded Cathy's house and destroyed Renee's husband's three truck stops in Mandeville, LA. They wanted to start a business that would help the community heal, according to Cathy.
When the they opened their first studio in 2007, most of their customers were people in town to see relatives or rebuild after the storm, Cathy explained. They served wine to loosen up the classes and prevent "white canvas anxiety."
The classes were an instant hit. One night at the first studio, the lights went out in the middle of a class. Cathy and Renee offered to give full refunds and reschedule the class, but their customers refused, instead parking their cars so the headlights would shine through the glass window and illuminate the canvases, Cathy tells me.
"They finished the class by the glow of the headlights and that was the moment I knew Painting with a Twist was more than just an art class," said Cathy.
"We've had customers tell us, 'This is better than yoga,' and 'I haven't thought about the flood, the kids or my job for two hours,'" she added.
Painting, in other words, is therapy. Psychologists and clinical therapists have known this for quite some time, and artists, of course, for even longer. Freud wrote in 1916 that art was a transformation of and alternative to neurosis; the Surrealists, following his lead, saw art as expressions of the deep subconscious, and created it as freely as they could. Freud's protege Carl Jung later wrote that "colors express the main psychic functions of man."
The modern term "art therapy" was coined in 1942 by British artist Adrian Hill, after he discovered that drawing objects in his hospital room helped him recover from a bout of tuberculosis in 1938. He began to teach art as therapy to soldiers returning home during the early years of World War II. After that, medical researchers began examining the practice more closely, developing specific techniques and standards for the practice, and though art therapy is still used to treat soldiers suffering from PTSD, the practice—now extensively credentialed—has expanded far beyond that.
It helps that painting can be done by the otherwise immobile, in a psychological or strictly physical sense. Frida Kahlo was studying medicine before she was in a gruesome bus accident at the age of 18. She began to paint to occupy her time during her three-month recovery, and went on to become—well, Frida Kahlo.
Casey Gill, my instructor at Painting Lounge, didn't mention Kahlo, but she started painting in much the same way. When she was 16, a car accident left her bedridden. Because she was a figure skater and dancer, doctor told her she needed to find a creative outlet or she'd lose her mind.
"So my mom bought me some paints and I basically in my recovery taught myself how to paint," Casey told me on the phone. "So that therapeutic approach to painting ended up being exactly what I'm doing now."
She started teaching classes in the spring of 2012 to earn some extra money between acting gigs in Philly. When she moved to New York the following year, she was one of few artists with experience teaching paint-and-sip classes. She started working at Painting Lounge when it only operated one studio in Brooklyn. The company, founded by a Rhode Island School of Design graduate, now has two more locations in Manhattan.
I admitted to Casey that I was skeptical of the class when I first signed up, and she told me I was far from the only one. Her classes end up being like mini therapy sessions, even if that's not what her customers come in for, she told me.
"Whether they realize it or not, it's a way they can sit and forget about everything else, and concentrate on something that's kind of silly and doesn't really matter," she said.
It's not just the act of painting that's therapeutic, she added. The performance of putting on an apron, of getting messy, allows her students to feel rebellious and escape the stress of their day-to-day lives.
Though it's easy to raise an eyebrow at the canvases people tote home with them, many paint-and-sip patrons say the same thing—that at the end of the day, it's not about the finished product.
"It was supposed to be a recreation of Georgia O'Keefe's "Poppy," 28-year-old Jenn Corcoran of Albany told me, of the second painting she made in a paint-and-sip class. "My flower ended up looking suspiciously like a vagina. I threw it away once I got home."
Though she considers herself to be a creative person, Jenn said her life is too busy for her to plan a painting project at home.
Kerry Benn, a 31-year-old editor living in Springfield, NJ, has one of her paintings up in her cubicle. She said the other works she's painted in classes with her husband haven't quite been masterpieces: "We had [one] hanging in our living room until we went to stage our house to sell it, at which point we replaced it with something a little more professional."
I don't have it in me to toss my starry night painting, but I'll also admit that I don't want it up in my apartment. But, like Kerry, I would definitely go to another class in the future. It turns out that free expression isn't necessarily central to the therapeutic value of painting. The act of creating, even coloring in the lines, will do.
---
Mass-market art therapy has recently resurfaced in popular culture through the rise in popularity of "adult coloring books," which can now be easily found near the entrance of almost every Barnes & Noble bookstore. Full disclosure: I own about five.
Like coloring books, paint and sip classes can bring us back to a childlike state where nearly everything is taken care of for us save a very limited task. When our pictures and paints are already picked out, the remaining creative process is almost automatic, and incredibly restorative.
According to a 2005 study by researchers at Boston College, the act of creating a work of art can actually improve someone's mood, unlike other activities like copying geometric shapes or solving a word puzzles. Selecting their own shapes and colors allows individuals to to better express their feelings, the researchers reasoned. Psychology researchers have also shown that structured coloring can induce a meditative state that reduces anxiety.
But paint-and-sip studios are businesses, not mental health facilities, and they are interested in getting us to shell out as much as possible for these potentially therapeutic classes. For many customers, the price tag—between $25 and $50, not including alcohol—means that classes are reserved for special occasions: birthday parties, bachelorette parties, anniversaries.
The Sunday afternoon after Casey's class, I made my way to the back room of a Park Slope bar to paint my own version of Monet's water lilies with Paint Nite, a studio that runs its classes out of local bars and restaurants.
The majority of the class was taken up by three separate birthday parties. I didn't ask the women their age, but I'd guess they were all between 35 and 55.
Like Casey, our instructor Adam Lordi told us jokes as he guided our brushstrokes. He also encouraged everyone to break the rules, telling us it's a "very low pressure situation." Adam, who works as a lighting technician for TV commercials, said that he paints on the side, and that he likes working with Paint Nite because its classes aren't confined to studios.
"They come to a bar close to where people are," Adam later told me over the phone. He's currently trying to get new locations to open up in less-gentrified neighborhoods of Brooklyn, like those south of Prospect Park.
According to its website, Paint Nite's goal is to support local artists and small businesses. The company, founded in Massachusetts 2012, says it now operates out of approximately 1,500 venues in over 80 cities around the United States, Canada, Argentina and South Africa.
"Paint Nite is a fast-growing lifestyle and experiential brand disrupting the nightlife scene across US and international markets," the company boasts. In an effort to lure more sponsors like Uber, Bacardi and the Boston Red Sox to the brand, Paint Nite's website offers a glimpse into the demographic profile of its consumer base. Unsurprisingly, 86% of its customers earn more than $51,000 per year, and 30% make over $125k. Most are women.
The hobbyist aspect of the paint-and-sip studio puts it well within the tradition of well-off women occupying their time with art. In the 19th century, women of leisure in the United States and late-Victorian England began decorative china-painting alongside already accepted "parlor crafts" like watercolor. And today, although the "women of leisure" at paint-and-sip studios are likely to be grasping for that leisure after long workdays of their own, the activity is still for the relatively comfortable. I used discount code and a Living Social coupon to pay for the two paint-and-sip classes I attended, but I still shelled out over $75, not including alcohol or tips. You could say that's not a lot of money considering the labor costs and materials included, but in more ways than one, the activity has the feel of a luxury; for many Americans, it's out of reach.
"People come because a little part of them has wanted to get messy and make a painting," said Casey of her students. "They won't go to Michael's and buy a canvas and a bunch of art supplies themselves. They almost need permission. They need me in the front of the room telling them it's going to be OK."
That is what you're paying for, ultimately: the permission. We should all be so lucky to have a paint-and-sip level of support in our artistic endeavors. These guided, wine-heavy painting classes provide a shortcut to the satisfying, therapeutic and meaningful effects of creating art, while requiring none of the discipline, drive, or effort. They are, honestly, very satisfying—if you happen to be able to pay.
Stephanie Russell-Kraft is a writer, reporter and translator living in Brooklyn, N.Y.
Illustration by Tara Jacoby