So here's something interesting — for $250 you could have rubbed shoulders with Cory Kennedy at the Nicholas K show last week, and for $199 you could've checked out the Nanette Lepore show. This is all thanks to fashion industry insiders like publicists, freelance editors, and stylists who are more than willing to exploit their clout and make a quick buck by selling their unwanted tickets to many of the smaller shows (no Rodarte or Ralph Lauren — yet) for a pretty penny on Craigslist. And apparently, there are plenty of people more than willing to pay up.
23-year-old Lena Naim was one of them, paying $250 for a seat at BCBG Max Azria. An Australian native, Naim gushed that it had always been her dream to go to a fashion show in New York. "The whole industry is so fascinating to me. It's just so beautiful and glamorous. I can't explain it, I just love it!" she exclaimed when asked why on earth she would fork over $250 to watch something that is usually over in less than ten minutes. "It's just so exciting! I love the models, the clothes, the glamorous editors, seeing all the photographers."
While this kind of excitement has led "show crashing" to become a common challenge among gutsy fashion students, interns and wannabes, exchanging money for a ticket and therefore fuss-free entrance would seem a lot more appealing to the many outsiders who want to be in. The embarrassing rejection ratio would seem greatly diminished — there's no scrounging around rubbish bins in the hope of finding already used show invitations that if flashed quick enough, might get you past the gate-keeping publicists, and there's no more fear of looking like a complete loser when you're told in front of everyone else in line, "Sorry, that editor has already been seated." Nice try.
"The guy that sold me the ticket had his assistant meet me at the backstage entrance of the show, I gave him the $250 and he led me right to the seats through backstage," explained Naim. "I got to see all the models, hair and make-up — it was worth the $250 to be part of the spectacle, it was so great!"
G/O Media may get a commission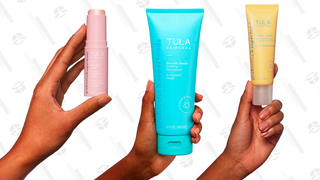 But not so fast. IMG, who runs New York Fashion Week, told Jezebel that if any person was caught with a ticket that wasn't theirs, they have every right to deny that person access or throw them out. These black-market tickets are not infallible; and good luck trying to get your $250 back.
It's a common occurrence to hear Fashion People complain about how hard fashion week is, how they'd rather be anywhere but this spectacle. Even Cathy Horyn wrote of her response to a cab driver that asked if she wanted "the fashion shows" on day one — "Actually, I want a week on a deserted island," she admitted. But does the stress of being a fashion insider during this, the week of all weeks, mean it's ok for these jaded fashion industry folk to sell their unwanted tickets to a more grateful and enthusiastic attendee?
It may be common practice for magazines to share invites around the office, for say, fashion assistants to go in place of editors who are running late, or as a reward to a hard-working intern; but when money exchanges hands it becomes, well, a bit unethical.

Fashion Week is an industry-only event and tickets are nothing but a personal invitation from the designer to media representatives, buyers, and their closest, most personal celebrity friends — for the most part, a very tight-knit bunch. So how might these designers feel if they knew their (explicitly non-transferable) invitations were being sold on the sidelines for commercial gain? I'd say they'd be pissed.
While it's not illegal, per se, and IMG is well within its rights to try and prevent it (but that's about all), it's pretty much on par with editors who sell their gifted swag — like the Pirelli calendar (only given to a select few at their yearly launch) that one editor sold for $1000 online, or the Jeremy Scott for Longchamp bags that he gives to front-row guests (a couple of which inevitably cycle into New York City consignment stores within days of Scott's show), or the thoughtful but usually unwanted gifts new up-and-coming designers send to editors which wind up on eBay next to their Christmas key rings from Hermès. Yes, you're paying top dollar for something they got for free, something they were gifted. And something about that just doesn't sit right.