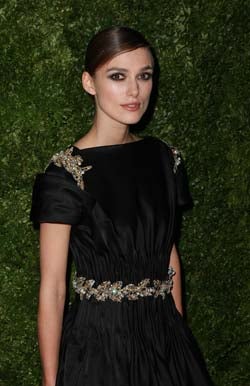 It's not hard to believe that the guests at a party honoring Chanel (also, oddly, an after-party for The Duchess) would look decent - for one thing, they were probably wearing a lot of Chanel. But to have not even a single "Bad?" That's noteworthy. Sure, maybe not everyone hit Keira Knightley's heights or achieved Coco Rocha's level of chic, but from Anna Wintour to Melania Trump, there was nothing worse than a "meh" at New York's Cooper Square Hotel. The Goods and the Even Betters, after the jump.



The Good:
Perhaps only a figure like Keira's could pull this off.
Coco Rocha's frock is adorable.
Anna Wintour's thing is kind of to be impeccably but unobtrusively turned out. Almost didn't recognize her with that warm smile.
Not surprisingly, Anna's daughter Bee Shaffer brings it, too. In the genes - or at least the contract.
The Kinda Dull
Blaine Trump's LBD is certainly safe, but doesn't really pop in this crowd.
Melania Trump frequently rocks the "socialite sheath."
It seems like Katie Lee Joel was kind of thrown into this whole social whirl and still hasn't found a look that really makes her feel comfortable.
The Least Good:
Beth Ostrosky never really looks elegant. Maybe being married to Howard Stern will do that to a gal.
Amanda Foreman's horizontal stripe narrowly avoids flat-out unfortunate.
Images via Getty