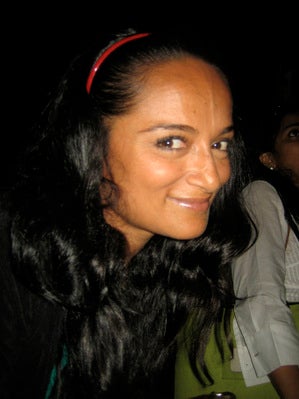 "Fashion Week has become what we call a junta event," says Bandana Tewari, meaning a mob scene. "It was exclusive in the past, with a certain amount of pomp and show required for the industry."
"But now everyone wants to be part of fashion and so you've got Bollywood types in dark sunglasses and dumpy housewives showing up wearing 14-year-old sandals."
Thanks, Bandana Tewari, fashion features director of Vogue India, for reminding us all of the rank assholery and sneering classism that finds easy quarters in the minds of far too many people in this industry. Most genuinely nasty fashion folks soon learn to hide it — a skill I'm sure Tewari will come to master. Look, what should anyone expect from a magazine that puts a $100 Fendi bib on an impoverished toddler?


Fashion Finds A New And Bigger Role In India [NY Times]
Earlier:
Vogue India Puts Fendi Bib On Impoverished Child; Critics Freak
Photo via Diane Pernet