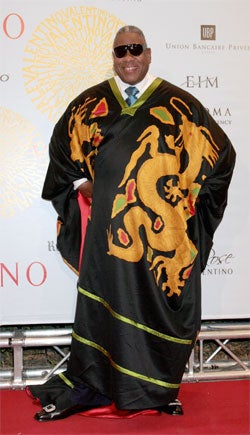 Fashion Week Daily quizzed "humans on the street" on their knowledge about all that fashion minutiae that is eating away at our gray matter right now, and guess what? There's hope for the future of the American economy because they found five non-homeless New York residents who don't know who the fuck Agyness Deyn is. ("Actor-slash-model-slash -dancer-slash-waitress at Pastis?" ventured astute "consultant" Sean Epstein.) But the best part of the feature is the responses to "What Does This Man Do For A Living?" regarding this gentleman to our left... (Click tag for more)
Craig Cacciola, 31, Advertising: "It's Clarence Clemence [sic], the sax player"
Karen Senderovich, 27, Engineer: "Maybe he sings in a church."
Alan Kaplun, 27, Attorney: "He's a samurai warrior or an entertainer."
Midorr Matsu, 39, Housewife: "He looks like an ambassador. He looks cool."
OMG, we're too brain addled to top these, but we think we know a little game we're playing tomorrow with Isabella Blow...