When you think about it, going to a fashion show dressed head-to-toe in that designer's work is like going to a Yankee game in full pinstripes. Read: kinda lame. When you think about it even more, going to another continent to watch some women in conceptual clothing walk down a catwalk for fifteen minutes is weird, too. But hey, the rich are different from you and me! And as evidenced by the getups after the jump, the shows of Paris Couture week are a great excuse to wear some rad outfits without the pressures of The Carpet. Click through to see the fashions of Liv Tyler, Eva Mendes, Anna Wintour, Patricia Arquette, Helen Mirren and Wonder Woman herself, Lynda Carter.
The Good:


Claudia Schiffer, incredibly chic at Armani.


G/O Media may get a commission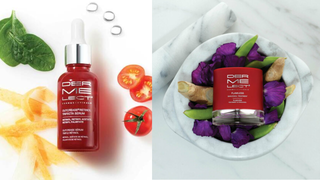 Save $19
Retinol Renewal Kit
French fashionista Clotilde Courau wearing this New Look number to the riotously retro Dior show is the equivalent of painting your face with the Patriots logo. Except that this looks stunning.


Helen Mirren, power-dressing to good effect at Armani.


Princess Siriwanwarree Nareerat of Thailand, at Dior.


No one - not Kate Moss, not Lauren Hutton - does dressed-down better than Charlotte Gainsbourg, chicest woman in the world. Here at Givenchy.


There's a lot going on here, but Eva Mendes, at Dior, makes it work.


Not going to lie to you, team. I would get a perverse pleasure out of sticking Nuclear Wintour (at Lacroix) in 'Bad.' But looks like today's not going to be that day. Journalistic ethics, etc.


Who but Wonder Woman could pull off this trying shade of lemon? Lynda Carter, Lacroix.




The Bad:


Socialite and fashionista Becca Thrash looks...how do you say?...not great. I think the problem lies in the necklace. Lacroix.


Not my favorite look on Patricia Arquette, at Dior. The belt, the hem...oh, dear.


If model Joanna Preiss (at Dior) was rocking this with shorts, maybe - maybe - it could just be dressed-down. But the diaphanous skirt takes this in a dangerously middle-school direction.


I can imagine the pressure's on when you've been a fashion icon as Marisa Berenson has. And if she just wanted to say, 'screw this I'm done with fashion' it would be one thing. I mean, I'm not looking iconic right now, either. But she's at the Dior show and I'm at my Grandpa's house.


Incidentally, Liv Tyler's movie, The Strangers, is really scary. I dislike her frock, presumably Givenchy.
Getty, WENN" />