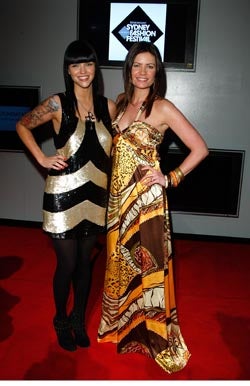 I love the title of this charity; it's like, Science had its shot, now we're bringing in the big guns! Fashion Targets Breast Cancer celebrated 10 years in Australia last night with a gala in concert with IMG Fashion at the Rosemount Sydney Fashion Festival Marquee. I thought the clothes were pretty strange, but then, maybe a different aesthetic is necessary for the targeting of breast cancer, so I didn't want to apply my normal judgments to the situation. Accordingly, a wholly objective reporting of the guests' battle gear, after the jump!



Model Paneer Rose works a mod dress/coat combo. The sheer hose confuse me slightly, but I'm easily confused.
Radio presenter Blanca Dye targets breast cancer with a cocktail dress, lab coat, and boots.
Singer Tiffany Wood's weapon of choice: an aggressively printed maxi.
The pernicious fiction that a camisole increases a wrap's modesty is laid to rest by television personality Charlotte Dawson. Also in her arsenal: hose, pointy booties.
Model and TV presenter Sarah Murdoch seems to say: If the slit won't get the job done, by god, the cleavage will!
Kelly Smyth targets breast cancer in white, elf-toed go-go boots, mucho cleavage, and shocking pink mod. Who can withstand that? I know I can't.
Images via Getty