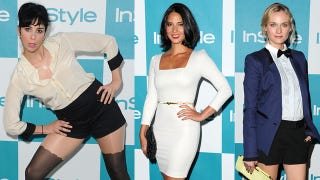 With a "Do You Really Want to Hurt Me?" hat, faux thigh-highs, and a cape, at least the red carpet of yesterday's 10th Annual InStyle Summer Soiree wasn't boring.
Everything about what Olivia Munn is doing here is classic Hollywood glamor—except for the shoulder-blade pantyhose.
Despite the fact that the blue in the shoes kind of clash, Diane Kruger looks super cute without being barfy twee.

OK, here's the thing: I actually really like Sarah's shorts and blouse situation (which might be a one-piece?) and the shoes could kind of be overlooked were it not for the tights that are supposed to look like thigh highs. I don't really understand the point of them, other than that they eliminate the need for garters, I guess. I mean, whatever, she's a comedian, so you know…I just realized that that came off way bitchier than I meant it. However, I will not rephrase.

I just want to get all ANTM panel on Emmanuelle Vaugier and tell her to take off the earrings, take off those shoes, pull your hair back. There, now you look like a model.

Abigail Spencer's cape is the best costume for the day. You understand.

David Arquette is truly one of the best dressed celebrity men. Did you see how great he looked during his ninth step publicity tour? The hem of Michelle Trachtenberg's pants is unfortunate. And then there's Sela Ward who looks like the sexy villain (the girl one) in Superman 2.

Cute, three different ways: Crystal Reed, Laura Allen, Jordana Brewster.

So that's what Lea Michele wore, and yeah, yeah, yeah, Beau Garrett's stupid hat, but let's talk Raven-Symoné. Why does she always dress like a sexy single mom who's trying to raise a 16-year-old son?

When (and why?) did Rose McGowan get her adorable cleft chin filled in?

While I admire that Kathleen Robertson's dress has a pocket (dresses with pockets are the best!), Jaime King's quirky schoolmarm is a lot more fun. Also, Kaley Cuoco looks stoned to the bone in every single picture from this event. Either that or she just finished crying before she stepped onto the red carpet.

Yeah, um…ehh…well…and the shoes…hmmm…Her nails look good.

Jayma Mays is totally wearing we'd call "the second dress" on My Super Sweet 16. Allison Janney's skirt seems like it was downloaded from a virtual reality game or made by the Lawnmower Man. And Erika Christensen looks like boring was dipped in dull.

Initially, Jenna Elfman's outfit seems super safe, but then you realize that she was saving all the pizazz for the heels of her shoes. Because that's what people look at when women walk away—the backs of their shoes. Right idea, Jenna, wrong placement.