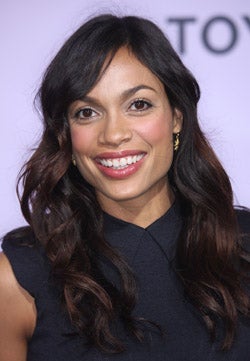 Maybe I just have a bad case of the TGIFs, but I was inclined to look upon the 18th Annual Environmental Media Awards, held at L.A.'s Ebell Theatre, in a very benevolent light. Yes, obviously it's an unimpeachable cause, but in addition, I thought Rosario Dawson, Maria Bello, Nicole Richie, Amy Smart and all their environmentally-conscious friends were looking super-smart. Certainly, there were a few blinding missteps, but the evening belonged to the crisp retro ensembles and romantic numbers that a lot of dames favored. The Good, The Bad, The Friday... after the jump.
The Good:

How sharp does Rosario Dawson look in her little Joan Holloway shift?

Digging Amy Smart's almost 70s lines. The pull is purely from the fact that she's walking, I swear!

You just can't beat a pencil and crisp blouse like Megalyn Echikunwoke's for smartness.

Clearly the horrible shoe war is not one I'm going to win, so I'm just going to try to overlook them, as in Nicole Richie's case.

I'm not the biggest ombre fan as a rule, but it does impart some romance to Bahar Soomekh's gown.

It'll be so sad when the whole early-60s pulled-together thing ends! Glad to see Maria Bello making the most of it.
The Bad:

Sharon Lawrence's is one of those cases where the bag broke it; with something smaller or earthier the whole thing would have looked far more deliberate and 70s-retro!

When we have as little dress to work with as does Adrienne Janic, that scrap of dress kind of needs to be ironed.

The glare off of Shondrella Avery's separates has blinded me momentarily!
Getty" />