Today in uncomfortable-slantymouth news ( :-\ ), convicted murderer/hardcore Belieber Dana Martin allegedly recruited a fellow inmate to (I AM REALLY SORRY ABOUT TYPING THIS) murder Justin Bieber and his bodyguard and then castrate them with pruning shears.
According to KRQE News, convicted murderer Dana Martin — currently serving two life sentences for raping and killing a 15-year-old girl in Vermont in 2000 — recruited a fellow inmate at Las Cruces prison named Mark Staake to carry out the murder once Staake was released.

Martin reportedly told police the plan was to kidnap Bieber and his bodyguard and strangle them with paisley ties, Martin's calling card. Ruane was then going to castrate them.

According to KRQE, Martin is obsessed with Bieber and even has a tattoo of Bieber on his leg.
Paisley tie. So specific. Slanty. Mouth. [TMZ]
---
Did you guys see fucking Barbara Walters fucking interview Chris Christie today? No? Well, this fucking shit happened:
Walters said she was very uncomfortable asking him why he is overweight, but did so anyway. Christie responded that he's "more than a little" overweight, and said if he could figure out why, he'd "fix it."

Walters continued. "There are people who say that you couldn't be president because you're so heavy. What do you say to that?"

"That's ridiculous," Christie shot back. "I mean, that's ridiculous. I mean I don't know what the basis for that is."

"I think they're worried about your health," Walters said.

"Well, I've done this job pretty well and I think people watched me for the last couple weeks and during Hurricane Sandy doing 18-hour days and getting right back up the next day and still being just as effective so I don't really think that would be a problem," he said.
G/O Media may get a commission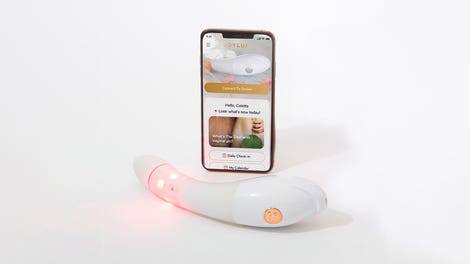 $50 Off
Joylux vFit Gold Device
BOOOOOOOOOOOOM. SMASH IT, CHRISTIE.
When Elisabeth Hasselbeck enthusiastically wondered what the governor was doing for the holiday, Walters brutally responded, "I'm afraid he's eating."
Barbara, your fear that Governor Christie is going to keep eating is nothing compared to my fear that you are going to keep talking. Please leave the grown-ups alone so they can do their jobs. [HuffPo]
---
A Canadian hacker who allegedly stole photos of Carly Rae Jepsen's boobz has been arrested:
Canadian hacker Christopher David Long has been charged with fraudulently obtaining telecommunications services, unauthorised use of computer, mischief in relation to data, identity fraud and possession of stolen property.

The 25-year-old, who had tried to sell the photos, turned himself in to Vancouver police last Friday, TMZ reports.

Long has since been released from custody and is due back in court on January 4.

Jepsen contacted police about the stolen photos back in March, with police investigating the incident ever since.
THROW THE BOOK AT HIM, JURDGE! [DigitalSpy]
In other Carly Rae Jepsen news, here are her favorite things that happened this year (most of them have to do with getting really really really famous). [MTV]
---
Amanda Seyfried says she likes to get drunk before interviews. [ContactMusic]
Tom Hanks will reunite with Bosom Buddies costar Peter Scolari in Nora Ephron's play Lucky Guy on Broadway. [Yahoo!]
Here's your First! Look! at Miranda Kerr modeling ugly clothes for Mango. [E!]
Today in segments of pop culture that I do not follow and thus might as well be written in Esperanto: "A$AP Rocky Gets A Surprise Visit From 'Jersey Shore' Star Vinny." [MTV]
Martin Freeman and Andy Serkis talk about what they're looking forward to in the next two Hobbit movies. (Mainly dragon stuff.) [MTV]
Jennifer Lopez went shopping. Lookit those gunz!!!!! [E!]
Jocelyn Wildenstein fell down. [Radar]
Blake Lively and Gwen Stefani made Fitness magazine's list of the Hottest Celeb Bodies of 2012. [E!]
Katie Holmes went outside. [JustJared]
Seriously, fuck Barbara Walters.