Judith Leiber, the creator of iconic, whimsical bejeweled handbags beloved by first ladies, socialites, and Hollywood stars walking the red carpet, has died at 97.
Her handbags are now in museum collections around the country, including the Metropolitan Museum of Art, and Andy Warhol once described her as an artist, according to the New York Times, but Leiber considered herself an artisan. "Today, most kids want to be designers, but they don't want to get glue on their fingers," she told WWD in 1993.
According to Vogue, Leiber originally learned her craft as an apprentice in her native Hungary. She studied chemistry in London and planned to work developing cosmetics, but World War II intervened. Or, as she put once put it, via the Times: "Hitler put me in the handbag business."
Instead, "I was the first girl in Budapest to apprentice in handbags. I thought that it would be a good way to immigrate to the U.S," she once told WWD. She got there eventually, with a young American serviceman named Gerson Leiber, known as Gus. Via the Times:
She knew all the stages of handbag manufacture, but there was no place to use this knowledge because Jews were being sent to concentration camps. She and other family members escaped that fate when they were pressed into service sewing army uniforms. She also began a small handbag business at home, using whatever materials she could find, and after the war sold some to American soldiers stationed in Hungary.
Mr. Leiber was an Army Signal Corps sergeant in postwar Budapest when he and Ms. Leiber met. He was working as a radio operator maintaining contact between Vienna and Budapest. They married in 1946 and the next year left for New York, Mr. Leiber's hometown.
G/O Media may get a commission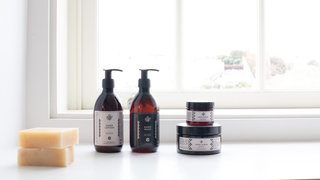 Exfoliate and Hydrate
The Handmade Soap Company
She quickly advanced in the handbag design business. She designed the bag that Mamie Eisenhower carried to her husband's 1953 inauguration—it was covered in pink rhinestones—while she worked at Nettie Rosenstein.
But Eisenhower was just the first, especially once Leiber struck out on her own in 1963. The New York Times said:

Mrs. Bush carried a Leiber design at her husband's inaugural ceremony. She also had one of the Leiber metal bags shaped, with slight variation, to resemble Millie, her springer spaniel. It was later duplicated and sold for $2,500. Other first ladies were customers as well: Nancy Reagan ordered white satin Leiber bags for both her husband's inaugural balls, and Hillary Clinton had a bag modeled after Socks, the family cat.
Of course, that gave her bags a very Upper East Side cast, which you might remember from this episode of Sex and the City:
But Carrie Bradshaw's personal taste and the cultural signifiers of 1990s Manhattan aside, it's really hard not to love a range of bags that "took the form of everything from peacocks to piglets and penguins, along with cats, lions, rabbits, frogs and dogs, with inspiration from Fabergé eggs to Mondrian paintings, all sparkling with 5,000 to 8,000 rhinestones and even semiprecious stones," according to Women's Wear Daily. Oh, and in at least one case, a bundle of asparagus. "You have to have a sense of humor," Leiber once told Vogue.
Leiber died just hours after her husband of 72 years, in their home in East Hampton, New York.