This is the eighth week of Jezebel's first annual Fantasy Kardashian-Jenner League, a fantasy league about the Kardashians, the Jenners, and closely-related family members. The rules are here; playoffs are January 9, 2016.
In our constant efforts to prove that women are capable of having multiple interests—even Jezebel, and the Kardashians—the teams fought like barracudas for chum this week, some inching past each other and others devouring the scene like so much ocean detritus. Still, it was a rough go—Kylie and Tyga's relationship dramas set the entire ship askew, and by the end a few of our teams were mere yards from each other. We predict a rankings upset before the month is through, and it won't be pretty.
TEAM NOBODY
Kylie Jenner
Blog mentions: +66
App mentions: +7
Product shill: -5
Breakup with Tyga: +25
Makeup with Tyga: -25 goddammit
Rob Kardashian
Blog mentions: 0
Bambi, Norman and Other Dog Jenner:
Blog mentions: 0
RARE TRIPLE THREAT INSTA APPEARANCE: +10
G/O Media may get a commission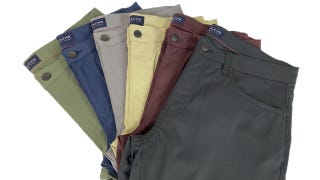 JACHS NY Fall Stretch Tech Pants
Reign Disick
Blog mentions: +1
Total yardage: 79
Performance summary: Kylie Fucking Jenner, man. She came so close to actually breaking up with her scrub-ass tenant—she came so close to having it all—and then she was all, "Chill, guys, you don't know what actually goes down in Calabasas and after all who is going to finance his struggle tunes if not me, an 18-year-old," and then after she said that Team Nobody turned around three times in its cage like a dog and then died. As the coach, I'm depressed. It's getting late in the season and Kylie needs to harness her Hot Powers for good and date someone cool, and if she can't go for cool she could at least vaguely shoot for talented. Her man's the equivalent of that bootleg fucking laxative tea she hawked on Instagram this week after a decent stretch of shilling only for herself. The doggies also, luckily, made a clutch fourth-quarter appearance on Instagram, but even their adorable matching outfits—all three of them, too!—aren't enough to make me forget that I'm intensely sick of Kyga: trop house is two thousand and late. —Jia Tolentino
TEAM I THOUGHT YOU HATE HOT PINK
Kourtney Kardashian
Blog Mentions: +28
Red Carpet Appearances: +10 (some WWD thing, Diddy's b-day party)
App is Coming!! (Mentions on Twitter):+5
Scott Disick
Blog Mentions: +19
Mason Disick
Blog Mentions: +1
Mary Jo Shannon
LEFT THE HOUSE FOR RED CARPET EVENTS!... TWICE!: +10
Total Yardage: 73
Performance Summary: Kourtney's at the top of her game thanks to a few dalliances with fun—she got twisted at a Diddy party and stepdad number 2 Corey Gamble had to escort her from the premises—proving that if she can just get comfortable in her new role as rogue quarterback, she could take this to the finals. Scott Disick continues to be a disappointment in his post-rehab role, as he shops for new luxury housing but interest in his private plane Instagrams wanes; perhaps it's not the financial time, my man. Most importantly, though, as a coach I couldn't be prouder of our new MVP, the Jeremy Lin of Team I Thought You Hate Hot Pink: MARY JO SHANNON, who emerged from the cut to celebrate her 81st birthday, and whose red carpet points we grandfathered in from Kris's birthday last week thanks to an eagle-eyed referee/reader who knew a stealth play when she saw one. This has been our best week. My current coaching strategy is pep talks and prayers.—Julianne Escobedo Shepherd
TEAM BIBLE
Kim Kardashian
Blog mentions: +32
Caitlyn Jenner
Blog mentions: +10
Tabloid cover: +10 (Life & Style, OK insets)
Rumored new romance: +5
Brody Jenner
Product shilling: -5
Leah Jenner
0
Total yardage: 52
Performance summary: Team Bible could've played with much more intensity this week, but I'm not mad at the final results. I certainly can't blame our MVP. In her last month of pregnancy, Kim has been laid up—specifically, laying upside down trying to reposition her breech baby for safe delivery—which means no tabloid coverage and zero app promotion. Thankfully, she's still blogging while upside down, having "surrendered to the placenta issues," she writes. Honestly, I'm not super proud of Caitlyn's efforts, but I'm glad she's been rallying around Kim in her time of need. Rumor has it that Cait's hooking up with her chauffeur; she also had platonic good times with her old flame Kris in New Orleans. Meanwhile, the rest of the team continues to play like scaredy cats who just saw a cucumber. Leah is busy praying for world peace, and Brody is busy doing NOTHING but has LOTS of time to tweet about some stupid BOOTS he bought. Trust that this will be remedied. Losing is not in my vocabulary. —Clover Hope
TEAM BUSH & THE TUSH
Kendall Jenner
Blog mentions: +18
Red carpet events: +5 (AMAs)
Corey Gamble
Blog mentions: +6
Red carpet events: +10 (P. Diddy's birthday party, Barney's New York XO Jennifer Meyer Exclusive RTW Collaboration)
North West
Blog mentions: +10
Brandon Jenner
Blog mentions: 0
Total: 49
Performance Summary: Well, this week was rough, but the worst news isn't my team's subpar performance: it's that I have a liar and a cheat in my midst. Corey Gamble, ladies and gentlemen, is Justin Bieber's tour manager. Since when? How did I not know this? Did Scooter hire him? Wait, forget those questions: what this truly reveals is Corey's lack of commitment to Bush & the Tush. If he is indeed Bieber's "manager," he should be getting far more contact with the ball than a lowly "slampiece of Kris Jenner" would. I have been cutting Corey a lot of slack, but NO MORE. Consider him benched until he decides to a. do more with his appearances on Keeping Up with the Kardashians then swat bees b. use his Justin connections for the benefit of all. Elsewhere, after gaining huge yardage in prior weeks, Kendall seems to have been playing with a minor injury; here's hoping her nipple piercing hasn't gotten infected. As for her niece North—well, I can't say anything bad about North's game, not when it involves forcing her cousin into wearing a t-shirt like this. That's a bold, risky pass that paid off. And despite Brandon's clear attempt to suck up to the refs, no one's biting on his pleas. Try again next week, Brando. —Kate Dries

TEAM THE GROSS FAN
Khloe Kardashian
Blog mentions: +15
Book mentions on Twitter: +10

For the third week in a row, there were so many that I'll just go with 10. But this one's my favorite:

Kris Jenner
Blog mentions: +11
Penelope Disick (daughter of Kourtney and Scott)
Blog mentions: +2
Casey Jenner
Blog mentions: 0
Total yardage: 38
Performance summary: Fuck this. Honestly. It's nearly December and my team is near the bottom, with no signs of improving. Some of my competitors (like Kate Dries) keep telling me that something good might happen in the final month or so of this league, but I'm not that optimistic. Unless Khloe releases 30 more books and Kris starts dating 40 more guys—all at once—I'm stuck. I'm out. My team has given up, and you know what? I'm nearly there, too. This Thanksgiving, I won't be giving thanks for anyone on Team The Gross Fan. Not Kris and her boring relationship, not Khloe and her her staph infection, not Penelope and her attempts at reading, and not the other one—who's the other one, again? Casey Jenner? Yeah, no idea who that is. Happy Thanksgiving to everyone but my team. —Bobby Finger
COMPREHENSIVE SCORES TO DATE
Team Bible: 565
Team Tush & the Bush: 547
Team Nobody: 542

Team The Gross Fan: 459
Team I Thought You Hate Hot Pink: 406
---
Contact the author at julianne@jezebel.com.
Images via Getty. Logo by Bobby Finger. Kim Kardashian image via AP.