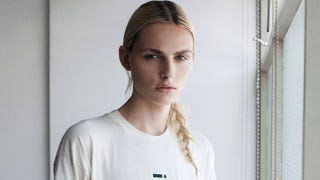 Model Andrej Pejic is getting lots of attention for his androgynous look: long hair, long legs and pillowy lips. But there's more to the rising star: A childhood spent being noticeably "different" in his small village in Serbia.


Thanks to the awesome folks at the WoW Report, we have two (new?) clips of Andrej in action. In this video, we learn that Andrej started wearing makeup at the age of 13. The folks in his village giggle when they say stuff like "What's in the pants? How do we know?" It seems they call him girlboy. But the very thing that makes him a mockery in his hometown is what makes him desirable to fashion folks. His grandmother says: "Whatever he's like, he's ours, and I wish him happiness and success in life." FYI, Andrej is coy about his sexuality, saying: "A comment is not relevant." We also like that in this clip, "runway fashion shows" is translated as "parades."


Here, the soft-spoken 18-year-old models for i-D magazine and talks about doing Gaultier, Galliano, Paris Fashion Week and French Vogue. When asked about modeling in women's shows, Andrej says: "Every man wants to wear a dress once in a while."
Be sure and check out Andrej's breathtaking shots on The Model Wall.
Andrej! Andrej! Andrej! [WoW Report]
Andrej Pejic Is The Blonde Haired, Blue-Eyed Beauty Currently Causing A Storm On And Off The Catwalk. [i-D]
Andrej Pejic [FTape]
Earlier: Androgynous Model Lands Major Fashion Campaign
[Main image by Thomas Lohr for i-D Magazine]