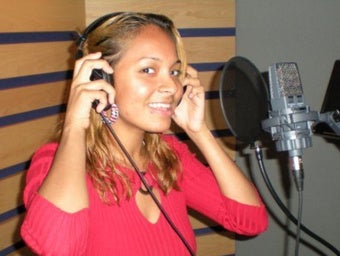 Just ask actress/model/singer Michelle Marie Gopaul, who's now facing charges of abduction of a minor after doing just this. Another item to put on your list of lifetime don'ts!
Gopaul, who currently resides in Canada, allegedly posted a fake casting call ad on Craigslist ISO a baby to "star" in her made-up Bollywood-style movie in exchange for $15,000, reports CNN. A couple saw the ad and bit, and Gopaul met them and their infant daughter in a building. She took the baby girl into another room, then ran off in a taxi with her.
As someone who never ever ever wants kids ever, I always find these stories to be totally perplexing. (You want to steal a baby? Um, okayyyy.) Nothing suggests that Gopaul, who is 24, was incapable of making a baby of her own. Surely she could find plenty of male suitors to help her out—she's an actress/model/singer, after all. But it seems she created a real problem for herself by publicly pretending that she was with girl-child—which involved one of those pesky nine-month deadlines, and also the appearance of a baby.
Says True Crime Report:
On her MySpace page, she wrote, "It's a girl!! I can't wait until my little pincess [sic] Valentina arrives!!" On October 30, she also registered for gifts on the Babies 'R' Us website ...

In the months leading up to her baby kidnapping, she'd been telling friends that she was pregnant. But when word reached her ex-boyfriend's sisters, her caper was blown to hell. They were naturally excited about seeing their new niece, so they began buying Michelle baby clothes and a car seat.

Then Michelle told them she'd given birth to the child at a Canadian hospital in mid-December. She told people she was too medicated to remember which hospital it was.
Gopaul went to far as to post ultra-sound pics on her Facebook. When the ex's sisters asked to meet their niece, Gopaul blew them off. But she finally agreed to meet them and her ex-boyfriend at a donut shop on the night of the alleged kidnapping. The baby was too big to be a newborn (some reports say the girl was one month old, while others say three months), the sisters became suspicious, and the scheme unraveled. The baby was safely returned to her parents, and Gopaul was arrested.
Gopaul's lawyer maintains her innocence: "There is no evidence at this point that she did anything wrong." But if the allegations turn out to be true, she'll have one hell of a hard time getting people to trust her again. It's all so sad, and so unnecessary. If she'd only focused on her career ...
Woman accused of snatching baby from fake casting call [CNN]
Michelle Gopaul, Alleged Actress & Singer, Busted for Stealing Baby During Fake Casting Call [True Crime Report]