There's something bittersweet about a physical trait you've been made fun of for your whole life finally coming into fashion. On one hand, not only are you free from ridicule, but you're being celebrated! On the other, the people who've always looked down on you are now trying to cop your look and act like those years of mocking NEVER EVEN HAPPENED.
Well, congratulations-ish, freckle-havers! You're the newest members of the Not-to-Hot club. Freckles are showing up in all sorts of fashion shows and are even being painted onto the faces of models who are tragically freckle-less.
Elle's Megan Cahn writes:
It turns out not all of these freckle-faced ladies are blessed with naturally spotted skin like the Polish beauty. A number of makeup artists, including Stila's Global Executive Director of Creative Artistry Sarah Lucero, actually added freckles as part of their look...

"Freckles instantly make the complexion look fresh, as if you have no foundation on," explains Lucero. "It's a beauty trick I use more often than you may think. If your foundation or powder looks cake-y, pop a few freckles on top. It will fool everyone into thinking you just have gorgeous, perfect skin, and that you're not wearing much makeup."
A fan of the look, Cahn decided to paint on her own freckles:
Walking around all day with subtle freckles on my face did make me feel a little more youthful. It didn't magically get rid of any dark circles or those pesky lines forming on my brow, but it gave me a look reminiscent of the days when I had the freedom to spend all of August hanging out at the local pool—without the unwanted sun damage—instead of in an office.
G/O Media may get a commission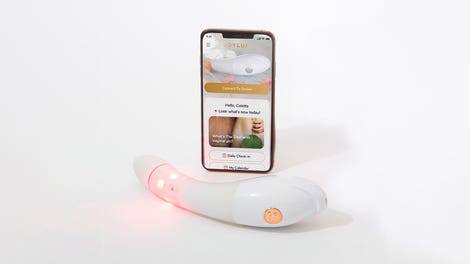 $50 Off
Joylux vFit Gold Device
Cool?
I guess painting on freckles is basically the same thing as putting on blush to look flushed or mascara to make your eyelashes darker and Cahn, based on the photos provided, looks fine with freckles and without.
People with freckles: Enjoy your time in the sun (not literally — that could actually hurt you). You are beautiful and anyone who has ever told you otherwise is now probably spending all their time in their bathroom mirror, meticulously trying to draw on sun spots.