Today in JESUS FUCKING CHRIST, PLANET EARTH, Facebook has shut down a page calling for Kendall Jones—the Texas teenager whose big game hunting photos recently went viral—to be shot.
Facebook recently removed several of Jones's photos, which depict her crouching—smiling, sunny, and blonde—next to the corpses of huge and often endangered mammals, after hundreds of thousands of users signed a petition labeling them "animal cruelty." In retaliation, other Facebook users created and liked a "Kill Kendall Jones" page, which was subsequently flagged and removed by administrators.
Via NYP:
The father of the 19-year-old Texas Tech cheerleader called people on Facebook heartless hypocrites and accused them of censoring his daughter while they allowed enraged users to publicly beg for her murder, according to TMZ.

...Shortly after its removal though, another page titled "Kill Kendall" soon popped up on the site.
This time, its creator made sure to clarify that they in no way intend to harm the teenage huntress.

"We DO NOT WANT TO KILL KENDALL," the page description said. "WE ARE NOT ADVOCATING THE DEATH OF ANYONE."

So far, nearly 350 people have "liked" the public page.
A brief search of Facebook indicates that the second "Kill Kendall Jones" page has now been removed as well.
G/O Media may get a commission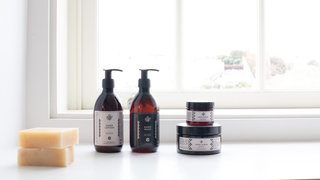 Exfoliate and Hydrate
The Handmade Soap Company
Hunting and killing endangered animals is disgusting and gratuitous. Calling for the murder of a teenage girl is not much better. Kendall Jones and her father might very well be the two hugest assholes e'er to roam the earth, but the penalty for being an asshole is not death. Please express your outrage in non-child-murdery ways.
Image via Facebook.