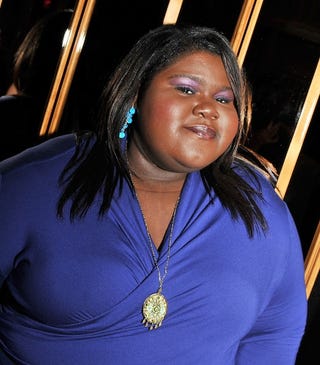 How does a 13-year-old getting compared to a lovely Oscar-nominated actress result in a mostly-female street fight? Well, the actress was Gabourey Sidibe.
On Monday night in Madison, Wisconsin, about 15 people, mainly women and girls, started brawling in the street. "The mother of one of the 13-year-old girls said it all started when the other girl began posting pictures of her daughter side by side with those of a heavy-set actress from the movie Precious," said police spokesman Joel DeSpain.
The crowd dispersed when squad cars arrived, but the police report colorfully notes that items left in the street included, "socks, rubber bands, hair ties, hair extensions, and a claw hammer."
Two adult women and three teen girls were cited for disorderly conduct and no one was seriously injured. Still, it's a depressing reminder our society still considers "fat" the worst thing you can call a woman (with the possible exception of "slut").
Facebook Posting Causes Street Brawl, Police Say [The Capital Times]