Notorious cheating website Ashley Madison has joined the ranks of Facebook and OKCupid, peering in on clandestine conversations between people seeking an affair in the name of research. And the conclusion the service (which pairs up married couples looking for "discreet encounters") came to? Monogamy is a failure. Imagine that.
This weekend, Eric Anderson PhD, professor of sport, masculinities, and sexualities at University of Winchester and "Chief Science Officer" at Ashley Madison presented his research at the 109th Annual Meeting of the American Sociological Association. He analyzed more than 4,000 conversations that 100 women had with various suitors without their knowledge (damn you Terms & Conditions) and found that, "It is very clear that our model of having sex and love with just one other person for life has failed— and it has failed massively."
Or maybe if people acknowledged the spectrum of relationships instead of reinforcing a binary perpetuated by terms like Anderson's "monogamism," there would be a lot less CODE RED: MASSIVE FAILURE. But yeah, there's a lot going on here. Like, a lot. Of course there's that whole thing that Anderson just went through thousands of private conversations. But also, as Belinda Luscombe at Time points out, there appears to be a conflict with Anderson drawing such broad conclusions while looking at one website which people use—often secretly—for extramarital affairs or that people who are in happily open relationships might use:
When asked how he adjusts his figures for this selection bias, Anderson's answer is simple. "I don't," he says. "Most of our knowledge of women who cheat comes from another population via selection bias, those in counselors' offices. My method is the best way we can do this. It's not perfect, but it's the best we have."
G/O Media may get a commission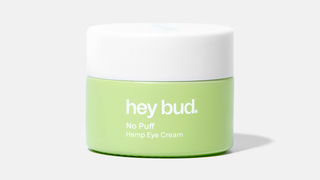 15% off
Hey Bud - No Puff Hemp Eye Cream
It should maybe be noted that Anderson, PhD, has written time and time again about how monogamy has a "stranglehold" on sex and love, how it is a "form of sexual incarceration" and how men will always want to cheat but that doesn't mean they don't love their partners, and women should just deal with that. So in that context the conclusion he draws from his study makes sense:
"Individuals evaluate their own standing by comparing their current position with those who have more," he writes. "Women may therefore look at their monogamous relationships and consider themselves sexually deprived in comparison to what they see occurring in today's sexualized culture."
So women cheat because of FOMO. Cool, got it. I mean, it's often noted that our constant encounters with images online does take a toll on our self-perception, but it's obviously not as simplistic as "Oh shit, look at all the action other people are getting! FUCK MONOGAMY!" While it's an interesting topic, maybe Ashley Madison should stick to the shock advertisement.
Image via AshleyMadison.com.