From the age of twelve to the age of seventeen, Davina Wan was in a gang. Excuse My Gangsta Ways reflects on a life in which a young girl could attend 35 funerals before the age of eighteen.
Directed and produced by Corinne Manabat, Gangsta Ways shares the powerful story of Davina Wan, a former gang member who charted a different course for her life after losing one of her closest friends. The description is here:
For most of us, wedding cakes and caps and gowns mark our life's milestones. For D. Wan, it is switchblades and dog tags. Excuse My Gangsta Ways, a documentary by Corinne E. Manabat, explores the life of Wan, a Chinese American from New York's Lower East Side, and her transition from a life of gang violence to a "normal" life. Visually poetic and uncompromising in its portrayal of gang culture, Excuse My Gangsta Ways uses interviews with Wan and her family to reach beyond stereotypes of urban gang members and America's "model minority." We will take a look at the person she was and the person she has become, where fate and inspiration endure.
When I saw the short film at this year's DC APA Film Festival, I was blown away at the level of honesty and pain captured in a scant fifteen minutes.
Wan's grandmother and godfather both share tales of Wan's rebellion, beginning after her parent's separation when she was young. Keenly describing the painful home situation she grew up in, it almost makes sense why she abandoned her former life and fell into an all-girl gang. However, through it all, she still dreamed of a different type of future. When one of her best friends dies, the tightly knit gang unraveled and Wan found herself wanting out. The film also explores her life now, and discusses the cost and result of that journey.
G/O Media may get a commission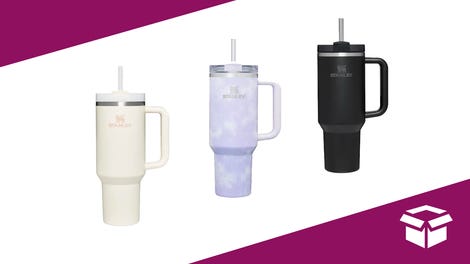 Up to 45% off
Stanley Cup Sale
Manabat, in an interview about the film, talks about the ways in which Wan's story challenged the predominant (and often stereotypical) narrative about the lives of Asian American women:
In the Q & A session after the film, Manabat mentioned that while her film was geared toward an Asian American/Urban audience in mind, the film was really for everyone - that the theme of transformation was most prominent. I agree - though gang life is a far cry from the relatively safe and stable world I grew up in, I felt myself relating to Wan's tale of being lost and adrift in a hostile world. This articulation of the inner lives of young girls is rare, but explains why some of us flee from our homes early, often into the arms of older men, trying to "raise ourselves the best way [we] knew how" as Davina's godfather put it.
Both Wan and Manabat do community outreach, and workshops targeted around the film - through their work, they are hoping to reach some of the other lost girls in the world, and show them there is a way for them to find something like home.
Excuse My Gangsta Ways [Third World Newsreel]
Official Site [DC APA Film Festival 2009]
My Space Page [Excuse My Gangsta Ways]
Next Screening [San Diego Asian Film Festival]