According to a report from Politico, the ex-wife of Andy Puzder, Donald Trump's nominee to serve as labor secretary, appeared in disguise on The Oprah Winfrey Show where she leveled accusations of domestic abuse.

Lisa Fierstein (then Lisa Henning) appeared on the talk show wearing a wig and glasses under the name "Ann." Though Winfrey's company could not locate a tape, and it's not clear what year she appeared, a spokesperson for both Fierstein and Puzder confirmed her appearance on the show. A friend of Fierstein's also confirmed to Politico that the domestic abuse allegations made during the appearance were directed at Puzder, though she did not mention him by name.
Fierstein's domestic violence allegations first came to the public eye in 1989 while the couple was divorcing. The Riverfront Times reported that the CEO of fast-food chains Hardee's and Carl's Jr had been accused of grabbing, pushing or hitting his then-wife on three separate occasions. In addition to the three alleged incidents, the Riverfront Times also reported the police had been called to the couple's house at least twice in the 1980s. At the time, Puzder called the allegations "baseless."
Indeed, Puzder's dismissal of the accusations was later reiterated by Fierstein. After the domestic violence allegations from the 1980s resurfaced, Fierstein issued a statement through the Republican National Committee calling Puzder "one of the finest men I have ever known." She added:
Many years ago I impulsively filed for divorce and was counseled to file allegations that I regretted and subsequently withdrew over thirty years ago. Andy is a wonderful father, a great person, and was a good husband.

He and I have long ago worked out any differences that occurred over thirty years ago and I cannot recall a single incident involving the police.
G/O Media may get a commission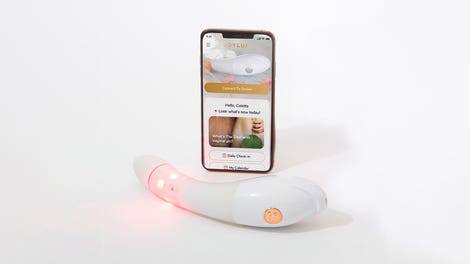 $50 Off
Joylux vFit Gold Device
The Oprah appearance raises new questions about the allegations, or as Politico curiously argues, Fierstein's appearance "show[s] that she went beyond divorce-settlement tactics to portray herself on national television as an anonymous victim of domestic violence."
The news of Fierstein's appearance on The Oprah Winfrey Show was accompanied by previously unseen court filing outlining details of alleged domestic violence in 1986. In that filing, Fierstein accused Puzder of "striking her violently about the face, chest, back, shoulders and neck, without provocation or cause."
Jezebel has reached out for comment on the Oprah appearance as well as the newly uncovered domestic violence allegations. We will update this story if we hear back.
Update: In a statement, a transition aide for the Trump administration said: "Lisa Fierstein, the ex wife of Andy Puzder, has publicly retracted her allegations. As stated by Mrs. Fierstein and Mr. Pudzer, all "allegations of abuse are false." This is nothing more than a desperate attempt to smear the good name of an individual who has shown nothing but dedication to creating jobs, growing the economy and championing women in his businesses and investments."