Mary-Kate and Ashley are former child stars turned designers. And if this strangely gushy, flattering piece in today's New York Times is to be believed, clothes produced by the "magical millionaire pixies" cannot be improved in any way. They're perfect.
I've never touched a piece of clothing from The Row or Elizabeth and James, so I can't vouch for their quality or awe-inducing fit. (A quick search of the collection at Bergdorf Goodman informs me that there's really nothing over a size 10, anyway.) But Jim Gold, the chief executive of Bergdorf Goodman, says that perfection is what The Row, M-K and A's high-end label, is all about. He tells the Times' Cathy Horyn: "I think the way to think about The Row is that it offers the perfect blank - the perfect schoolboy blazer, the perfect leather leggings, the perfect peacoat. So many designers are intent on the next great trend that some of the basics are neglected."
The Olsens' production manager, Joe Karban, who has also worked for Ralph Lauren, adds: "It's much like the old days at Polo… The kids on the team are really passionate about making clothes. How do you set a proper sleeve? How does a fabric perform? It's the art of making clothes as opposed to making everything cookie-cutter."
So. Their blazers have a high armholes and narrow sleeves, which makes your arms look even longer and skinnier. They're into luxurious textures: T-shirts in sheer cashmere, leggings in stretch leather. And they're not alone, apparently — Horyn points out:
With The Row outperforming many better-known labels, beleaguered retailers can't help gushing over the Olsens. The company expects annual sales to be 30 percent higher than last year, and Ashley said the line, which recently added men's wear, will break even this year. The company's total sales are estimated at $10 million, company officials say.
G/O Media may get a commission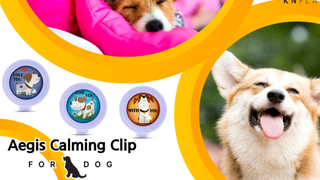 20% off
Aegis Calming Clip for Dogs
Recession, schmecession! Plus: No one seems to think that the famous names behind the label are driving sales. "The customer who buys the clothes almost never knows we're involved," Ashley claims. Julie Gilhart, the fashion director of Barneys New York, agrees: "I don't think anybody really cares that it's Mary-Kate and Ashley's collection. They're buying it because they like it." Or because when a T-shirt costs $300, it must be perfect.
Good Things Do Come in Pairs [NY Times]
The Row [Bergdorf Goodman]