It's Bruce Oldfield! It's Alice Temperley! It's Sophie Cranston! It's a Young British Designer You've Never Heard Of! It's Daniela Issa Helayel! In the months between the announcement of Kate Middleton's engagement to Prince William and their marriage today, reporters, "royal correspondents," and the random people they interviewed for their stories had an awful lot of ideas about Kate Middleton's dress. Almost none of which proved accurate. As now know, Kate Middleton's wedding dress was Alexander McQueen.
Last December, designer Ben de Lisi stated that Bruce Oldfield — who designed some of Princess Diana's most iconic dresses — would get the commission. The Telegraph wrote this up in a story helpfully titled, "Royal wedding: Kate Middleton's dress will be designed by Bruce Oldfield, claims Ben de Lisi":
"There are lots of rumours, but I've heard it is Bruce Oldfield," De Lisi tells Mandrake at a party to launch the jeweller Stephen Webster's new collection, at the Old Vic Tunnels in London...Oldfield, who designed Samantha Cameron's wedding dress and was a favourite of Diana, Princess of Wales, is, however, in no mood for any premature triumphalism. "Bruce has no comment on that," his spokesman says.
In November, conventional wisdom held that Oldfield was a shoo-in, so even the bookies offering odds on the royal wedding dress designer stopped taking bets:
BRUCE OLDFIELD is being hotly tipped to design Kate Middleton's wedding dress. The designer has received such interest from gamblers betting on the royal wedding dress choice that bookmakers Paddy Power have closed the wager.

"We suspended betting on November 26," a spokesperson for Paddy Power told us this morning. "We were receiving one-way traffic for Bruce Oldfield and there is no point in taking bets when all the interest is in one person. He started as 4/1 joint favourite, but since then his odds have been slashed to 1/3. That would mean there is a 75 per cent chance of him being the wedding dress designer."
G/O Media may get a commission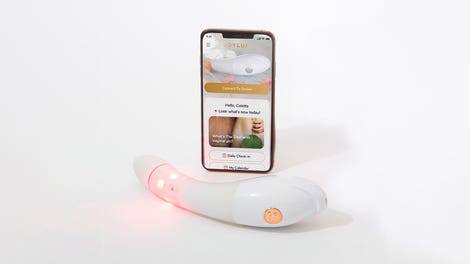 $50 Off
Joylux vFit Gold Device
In January, Pippa and Carole Middleton spent an hour and a half in Bruce Oldfield's London boutique. The Washington Post reported:
According to the Daily Mail, Kate's mother, Carole, and sister, Pippa, spent an hour and a half at the store, where they were helped by Oldfield himself. The Middletons reportedly arrived after lunching at one of Princess Diana's favorite restaurants, San Lorenzo. The online article includes photos of Diana in gowns Oldfield designed for her.

It's possible, of course, that Oldfield is creating gowns for the Middletons for another occasion — or that he's designing only Pippa and Carole's dresses for the April 29 wedding. Pippa is thought to be Kate's chief bridesmaid, or maid of honor.
At least they got that last bit right!
Strangely, as the date drew nearer, the press coverage — though speculative as ever — grew more emphatic in its tone. When on April 4th Carole and Pippa had the temerity to go shopping again, at Alice Temperley's store, the Daily Mail headlined its story, "How Royal Bridesmaid Pippa Middleton Kissed Goodbye To All The Secrecy Over Her Dress Designer." Bonus random "fact": "Meanwhile, The Mail on Sunday can reveal Kate will have six hairdressers on her big day."
But the biggest whopper of all came from Yvonne Yorke, the Huffington Post's "award-winning journalist and Royal Contributor." Less than a fortnight ago, Yorke published a story titled, "Exclusive: Sophie Cranston Chosen As Kate Middleton's Wedding Dress Designer." Yorke's lede was:
I've reported many exclusive details on the royal wedding, but the biggest scoop is undoubtedly the identity of Kate Middleton's wedding dress designer.

I can reveal that Sophie Cranston of the Libélula label is said to have won the coveted commission to make Catherine's wedding dress.
Yorke further claimed:
Through my insider sources, I've heard who was designing Catherine's wedding dress four months ago but kept it a secret in accordance with palace wishes, only divulging in my Huffington Post story last December that the designer is a young, relatively unknown British woman. At the time, everyone else was certain that Bruce Oldfield was the chosen designer. The relentless media speculation then moved on to a host of other names such as Alice Temperley, and even Victoria Beckham, before settling on front-runner Sarah Burton of Alexander McQueen.
The post was picked up extremely widely by mainstream news sources. It is now appended with an editor's note pointing to HuffPo's coverage of the Sarah Burton dress.
It's easy to retrospectively nit-pick stories like these — now we know that, OMG, it was McQueen all along, suckerz — but as long as our need for "news" continues to outstrip news' actual availability, we are bound for unpredictable outcomes.