Troop Beverly Hills turns 25 this year, which is probably a quarter of the number of times I watched it as a child (exceeded only by the original Parent Trap, which is in my DNA now). So, naturally—in honor of this august occasion and because I've gone at least a decade without any Nefler the Muffler Man in my life—it was time for a re-watch!
Other than showcasing Shelley Long at peak Shelley Long, being something of a third-wave feminist manifesto (it's okay to care about nails AND have a family AND be a competent woods-woman AND have libidinous feelings toward your CPR instructor!), and teaching a generation of children who Pia Zadora is for no reason, Troop Beverly Hills's most important contributions to our cultural lexicon lie in the realm of fashion.
In short: SHELLEY LONG'S OUTFITS ARE A DEGREE OF BANANAS NOT MEASURABLE BY HUMAN INSTRUMENTATION.
So, in the interests of preservation and celebration, I ranked them. See below, and discuss.
---
31. Feelings Circle War Bonnet
G/O Media may get a commission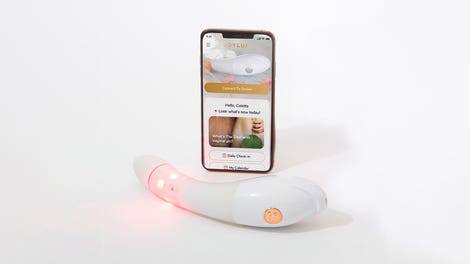 $50 Off
Joylux vFit Gold Device
We are all Mary Gross.
---
30. Original Wilderness Girls Peasant Smock
Burn it.
---
29. No More Mr. Fun Mom Sensible Chico's Draped Cardigan
NAAAAAOOOOOOWWWWW!!!
---
28. Wilderness Girls Boring-Ass Unstructured Jacket Dress with Pith Helmet and Survival Ascot
Moooooom, you're embarrassing us in front of Tori Spelling.
---
27. Snoozeville Polka Dot Jim-Jams
Basic.
---
26. Depressed Evian Goth Sorceress
This is worse than the time Ronaldo said he'd give me a body wave.
---
25. Red Mandarin Emotions Blouse
This Face: The Shirt.
---
24. Wilderness Girls Shorts-Suit with Beige Socks and Militia Beret
Long sleeves seem a little confining for the Freddie, imo.
---
23. Wilderness Girls Slightly Disheveled Morning After Silken Khaki Tie
Pull yourself together, Nefler. You look like Josh Mankiewicz.
---
22. Wilderness Girls Pleated Stump Slacks
Your legs look like big fingers.
---
21. Bowling-Themed Uncle Shirt Black Socks Casual
Would wear.
---
20. Wilderness Girls Green Socks Casual Sweatshirt Wrap
Those flats!!!!!!!!!!!!
---
19. Divorce Court Raffia Head Bandage
If I learned one thing from '80s movies it's that your divorced parents are definitely getting back together.
---
18. Wilderness Girls Cookie-Shilling Tart Pleats
Cheap at even twice the price.
---
17. Sensible Sequined Shoulder-Pads Night Robe
NEEDS BIGGER EARRINGS.
---
18. Wilderness Girls OG Redesign with Green Satin Cape and My Heart Forever
A deathless classic.
---
17. Oversized Do-the-Freddie Bee Culottes with Bonus Sheer Nylons
NOT SHEER ENOUGH.
---
16. Wilderness Girls White Fur Coat and Embellished Pith Helmet
"They chopped down trees, wove their own cloth, and survived on berries and squirrel meat. And not once did they have to go to the bathroom."
"Must've been the squirrel meat."
---
15. Citrus-Harvesting One-Glove Zebra Bustle
Nice of her to do Ho a solid and help out.
---
14. Wilderness Girls Maritime Formal Clown-Wear
"Silicone is buoyant."
---
13. IT'S MISSING A BEAD.
I SERIOUSLY THINK ABOUT THIS SCENE ONCE PER DAY.
---
12. Alexandra the Grape
Who wears gloves in L.A.!?!?!?!?
---
11. Wilderness Girls Power-of-Teamwork Jamboree Jodhpurs
I'm looking for a pair of pants that say, "What if my legs were shaped like two back-to-back basking sharks?"
---
10. Mauve Fur-Trimmed Camping Lingerie
LOOK AT YOU, YOU FUCKING MAGNIFICENT EMPRESS.
---
9. Yellow Big-Shorts
Cab Calloway called. He wants his middle part back.
---
8. Tweed Mid-Calf Palazzo Sandwich Jumpsuit
Yes.
---
7. Leg o' Mutton Minnie Mouse Shopping Peplum
Yes.
---
6. Blossom Hat Power Clashing Body Prison
YES.
---
5. Wilderness Girls Gold-Plated Flight Attendant
A.k.a. "the Robin Leach Manty-Dropper."
---
4. Yellow Trench Tiny Top Hat with Pointless Bejeweled Talking Frog
NOT TINY ENOUGH!!!
---
3. Little Bo Peep Joint Custody Aquatic Paper Towel Wad
Iconic.
---
2. What Bird?
---
1. Hot-Glue-Gunned Marzipan Picnic Shelter
THE PINNACLE OF HUMAN AUDACITY. THE WALKING-ON-THE-MOON OF CLOTHES. THIS IS ACTUALLY WHAT SHELLEY LONG LOOKS LIKE NAKED.