In 2005, Wendy Maldonado smashed in her husband's skull with a hammer, while her 16-year-old son assisted with a hatchet. The documentary Every F—-ing Day of My Life explores what led the Maldonados to commit such gruesome acts.
The film, which premiered on HBO last night - full schedule here - is a horrifying depiction of how domestic violence (check out Michelle Cottle's take on the term) took root in one family, and how the situation escalated for years. Wendy Maldonado was young when the relationship began: she was fifteen, and the man who would become her husband, Aaron, was sixteen. They were wed by the time she seventeen. This segment seen above reveals the depressing juxtaposition of home videos detailing a happy Wendy on her wedding day mashed together with her husband playing with a dead deer and Wendy's narration of how her husband dreamed of being a serial killer. (Warning: the clip is upsetting and has disturbing visuals.)
As the documentary goes on, the extent of the violence Wendy suffered is made painfully clear. Her son, Randy, and various neighbors all testify to the fact that it is amazing that she didn't die from all the abuse Aaron inflicted on her.
When conversations of domestic violence surface, people tend to wonder why women don't just leave. But as is made clear in the above clip, Aaron Maldonado made it clear that if Wendy ever left, he would begin to kill her family members, one by one, until he found her or until she returned. Donna, Wendy's mom, reveals that she was also in a abusive relationship and understood some of the dynamics at play. However, Donna says she was able to escape because most of her family was dead, and she felt she could flee her abuser without retribution. In Wendy's case, four small children, friends, and family kept her tethered.
The attacks on Wendy Maldonado were ferocious and brutal. Outside of what the children and neighbors describe, the Maldonado home was full of holes, holes made by Aaron ramming his wife into walls and doors. When he was gone, she would cover the damage with pictures that the children drew.
As the violence escalated, Aaron Maldonado would often refer to killing Wendy casually, one day even taking her to a designated "killing spot," a place high up on the Oregon trails near their home, where he began to strangle her. Wendy recounts that he stopped and fled before finishing the deed; she hypothesizes that Aaron stopped only because the crime would have been traceable - it's hard to point to a stranger abduction when a victim has month-old bruises and scars from beatings.
G/O Media may get a commission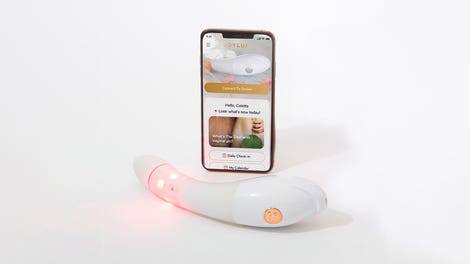 $50 Off
Joylux vFit Gold Device
According to the resource guide included on the HBO site:
*On average more than three women a day are murdered by their husbands or boyfriends in the United States.

* Nearly one in four women in the United States reports experiencing violence by a current or former spouse or boyfriend at some point in her life.

* Women are much more likely than men to be victimized by a current or former intimate partner.
It is obvious that the Maldonado's children were irrevocably scarred by the violence - one of the children testifies at his mother's sentencing hearing that he knew everything started before he went to preschool, because he told his preschool teacher when he grew up, he wanted to kill his dad. Despite the children often being open to others about their suffering, little was done to stop it. Some family members testified Wendy herself hid the violence from them; her friends said they knew about the violence, but did not want to involve the police, since they knew Aaron would make good on his murderous threats. The neighbors recounted how police would stop by, but leave the house without going inside. When the neighbors chased down the cop car, and explained that they had heard what was going on in the house, the police officers merely said to call them back if anything happened...and drove away.
Randy Maldonado's testimony about police involvement was heartbreaking - in recounting how he and his mother actually decided to kill Aaron, he mentioned that in a last desperate plea for help, he called the police while his father was outside chasing his mother. The documentary provides the recording of this 911 call: in it, Randy hurriedly whispers his location three times into the phone to a less than responsive dispatcher before hanging up out of fear. Miraculously, the police did arrive, but Aaron told Randy and Wendy to "get rid of them," reminding them that the other three kids were with him in the house. After law enforcement left, a desperate plan was hatched and conceived in two minutes; Randy and his mother grabbed a hatchet and a hammer, and attacked Aaron while he slept.
Wendy and Randy seemed resigned to their fates after the murder. Both accepted a plea deal which guaranteed 10 years in prison. (When the sentencing judge opined that no jury would have convicted them, Wendy replied that her son was facing 25 to life, and she couldn't gamble that kind of time on a group of strangers.) Wendy, in particular, seemed almost carefree as the day of her imprisonment approached, baking cookies for the three remaining boys (Randy was already serving his time) and hugging and kissing them often. As she said at one point, "I know they will be safe."
Every F—-ing Day of My Life [HBO]
Every F—-ing Day Of My Life - Full Schedule [HBO]
Related: "Domestic" Is For House Cats [TNR}