Another day, another study that proves women get paid way, way less than men who are at the same stage in their careers: researchers looked at female and male physician-scientists' work hours, academic titles, specialties, ages, and any other factors that could influence their paycheck, making sure to only study doctors who were each other's professional counterparts, and found that men's average yearly salaries were at least $12,000 higher than women's.
For those of us who aren't physician-scientists (or mathematicians): that adds up to more than $350,000 over a 30-year career. That's almost double the average educational debt most new doctors are saddled with after graduating from medical school. (And no, female grads aren't given any special deals to make up for the disparity.) Or, you know, a down payment for a house, retirement funds, or a private island or two! It's a shit ton of money, is what it is. So why aren't women getting any of it?
Most people assume that female doctors are paid less because they choose to have children, meaning they are forced to work fewer hours or work in less intense specialities. But two prominent doctors and medical researchers told the AP that they think it has more to do with the willingness of male doctors to unabashedly self-promote and ask for pay raises. "Male faculty members are willing to negotiate more aggressively. It may be social and cultural. It seems to be fairly deep-rooted," said Dr. JoAnn Manson, chief of preventive medicine at Brigham and Women's Hospital and a professor at Harvard Medical School, who said way more men than women ask her for raises and promotions.
However, it's not as if women hold an equal number of leadership positions at medical schools, even though about equal numbers of men and women graduate from them — it's only afterwards that men take over high-ranking roles, probably because people in hiring positions are still biased toward men, unconsciously or otherwise. Dr. Julie Gerberding, former head of the federal Centers for Disease Control and Prevention, said it's crucial that both women and men in leadership positions at medical schools and teaching hospitals mentor qualified women and suggest them for promotions.
"There were some moments when I was angry [about the disparity], but that was motivating. I thought it was an intolerable situation and it just motivated me to work harder," said Gerberding, who left CDC in 2009 and now heads up Merck & Co.'s vaccine unit. Let's follow her example: get mad, but then get even.
G/O Media may get a commission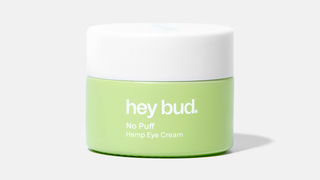 15% off
Hey Bud - No Puff Hemp Eye Cream