According to a source, Evan Rachel Wood and Jamie Bell split because Wood prioritized motherhood over her relationship. In a seemingly contradictory detail, Wood also reportedly thought Bell wasn't "edgy" enough.
"Nothing dramatic happened. They are friends and will continue to parent their son together. They have been friends for years and are happier this way than being married," the source says.

The couple welcomed a son last July, and he became the focus, the source adds. "Evan loves being a mom. After her son was born, he has been her No. 1 priority. The marriage always came in second. They have different goals for the future and want to pursue them separately."

As for Wood's romantic future, the source adds: "Evan is very edgy and adventurous and wants to find a partner that she can share that with."
Yeah, or maybe the marriage didn't work because human lives are infinitely complex and unique and every human pairing fits and chafes in a million different ways. Or it could be this weird husband vs baby dichotomy that someone created. IDK. [People]
---
Kim Kardashian was seen without her wedding ring on her honeymoon, is PROBABLY divorced already.
Their wedding bands were custom-made by Kim's favourite jewelery designer Lorraine Schwartz.

But as they stepped out in Prague on Friday, it was just Kanye West who appeared to be wearing his with pride.

Passers-by got the first glimpse of Kanye's band, while it seemed Kim had left hers in the hotel.
G/O Media may get a commission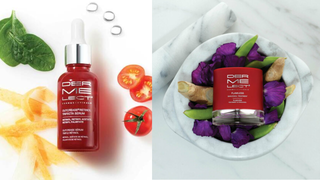 Save $19
Retinol Renewal Kit
I literally cannot think of anything less interesting than tabloid celebrity wedding band speculation. [DailyMail]
Also she wore this dress. [JustJared]
---
Vanessa Hudgens "FINALLY" mastered slouchy. YOU OWE US ALL AN APOLOGY, HUDGENS. [E!]
Brad Pitt refers to himself as a "farmer." [JustJared]
Prince Harry is going to do a tour of South America. [Us]
A judge has granted Casey Kasem's daughter daily visits with her father. [E!]
Donald Sterling is suing the NBA for literally one billion dollars. [DailyIntelligencer]
I LOVE that Charlize wore this oversized Hanes t-shirt to the red carpet. [E!]
David Beckham went to SoulCycle, has arms. [JustJared]
Can we keep talking about how Sandra Bullock and Chris Evans are maybe dating? Because I LOOOOOOVE IIIIIIIT SOOOOOOO MUUUUUUUCH. I'm naming my firstborn child Sandra Bullock Is Maybe Dating Chris Evans West. [ShowbizSpy]
Ronnie from Jersey Shore puffed out his stomach and then sucked it in and now would like you to buy vitamins or something. [E!]
George Clooney went out to dinner and talked in code. I don't understand the words that this story is saying. Is this story in code? [ABC]
New Annie trailer!!! [TheLifeFiles]
Because this has been playing on a constant loop in my head for approx. 72 hours. Now you can all SHARE IN MY CEASELESS HUMMING.
Images via Getty.