Desperate Housewives creator Marc Cherry is working on a pilot called Devious Maids, which seems to be loosely based on a Mexican telenovela Disorderly Maids Of The Neighborhood. The premise: Four maids (Ugly Betty's Ana Ortiz, Entourage's Dania Ramirez, Chasing Papi's Roselyn Sanchez, Scrubs's Judy Reyes) with big dreams and a lot of ambition are working for the rich and famous in Beverly Hills. (Rumor has it Susan Lucci will play one of the employers.) While it's exciting that the show could get picked up, being the rare program with four Latina leads, it's a little disappointing that they will be playing housekeepers. It is one of the most pervasive stereotypes Latinas have to deal with.
In 2009, the actress Lupe Ontiveros — who played Rosalita the maid in The Goonies — talked to NPR about her feelings playing characters that reinforce the Latina stereotype.
She says that when she goes to auditions, she knows what they want.

"'You want an accent?' And they'd say, 'Yes, we prefer for you to have an accent.' And the thicker and more waddly it is, the more they like it. This is what I'm against, really, truly," she says.
Ontiveros — who has a bachelor's degree in social work and has played a maid 300 times on screen — also said: "I long to play a judge. I long to play a lesbian woman. I long to play a councilman, someone with some chutzpah."
The problem is, very rarely are these kind of parts open to women with Latina backgrounds. Even Jennifer Lopez played a maid. And think of Teresa Yenque, who has been on seven different episodes of Law & Order: SVU, and played "Cleaning Lady," "Housekeeper," and "Housekeeper/Nanny."
G/O Media may get a commission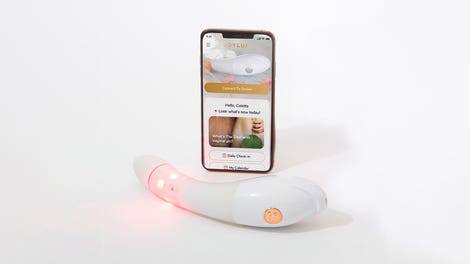 $50 Off
Joylux vFit Gold Device
Some may argue, "at least she's getting work." It's true that being a working actor is rare and commendable. But being pigeonholed, playing a character that has been written from a white person's perspective of what a Latina thinks and feels doesn't do much for how our society views women of color. Not all Latina women have accents. Not all are under-educated. Not all work as domestics. They are doctors, lawyers, politicians, artists, writers. But maybe that's why Eva Longoria has joined the pilot as an executive producer. Perhaps doing a little mythbusting — showing these women as intelligent, educated, and so much more than the average person would expect from a housekeeper — is in order. That said… they are still being called "devious." And are we teaching little Latina girls that when they grow up, they can be whatever they want to be? Or that people will assume they are a housekeeper… or an actress who plays a housekeeper on TV?
Eva Longoria Joins ABC Pilot 'Devious Maids' As Executive Producer [Deadline]
Earlier: The Only Living Maid in Law & Order's New York