Next month, Etsy will mark its seventh year in business, and the company is now worth a whopping $600 million. But this impressive growth comes with issues: Namely, the fact that a small portion of the stuff in the so-called "handmade marketplace" is not exactly handmade.
As Adrianne Jeffries reports for the New York Observer,
The majority of items on Etsy are unique, but the sheer volume of sellers coupled with Etsy's convoluted terms of use have led to an influx of more common items, like mass-produced trinkets restrung on mass-produced chains, "vintage" T-shirts from the early aughts, and furniture sourced from a wholesaler in Indonesia. The trend is discouraging to crafters and it's turning off some customers.
It's obvious that in a cold, machine-made, factory-assembled world where everyone's computers, cars and clothing look the same, Etsy offers a warm, human touch. It's where you go to find something unique, conceived and made by a real person, and not a corporation. The problem is finding the line: Where does crafting become manufacturing? As Jeffries puts it:
It's easy to say that a miniature zine inked with original poetry and wrapped with braided twine is handmade, while that Moleskine bought in the checkout line at Starbucks is not. But there's a large gray area. If a seller buys a plastic flower from Wal-Mart and glues it to a Moleskine from Starbucks, is that handmade? What if she buys a box of plastic flowers and a carton of Moleskines, and does it 500 times? Under Etsy's terms of use, this would be okay-but it's not really what the founders had in mind.
G/O Media may get a commission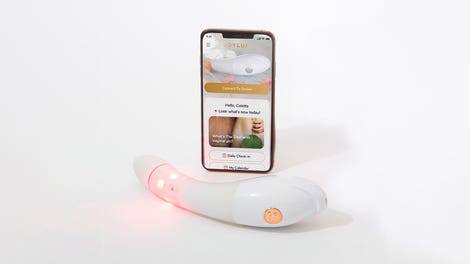 $50 Off
Joylux vFit Gold Device
In April, a furniture designer was one of Etsy's Featured Sellers, but Regretsy called her work "bullshit." The designer was importing Balinese wood through a wholesaler. Some of her pieces were listed on that company's site and at Overstock.com. A brouhaha ensued, and some sellers staged a demonstration: Protestsy.
This isn't just about the line between making and manufacturing. This is about the strong emotions stirred up when we believe something is truly hand-crafted. We're very attached to the concept of special, of something not produced for masses but just for us. We're comforted by the notion that we are unique, different from others, an individual. And thus a home-made headband becomes more appealing than one from chain store. But, as Jeffries points out:
Funnily enough, the definition of "genuine handmade," Protesty's cause célèbre, still remains elusive. The whole kerfuffle reminded me of a trip in 2007 when I bought a black-and-orange painting of a monk holding an umbrella at a precious lantern-lit night market in Laos. Over the next few days, I saw the monk with the umbrella everywhere — someone must've painted the image once and realized he had a hit. I caught a ride with a teenage boy on a motorcycle. He said he was a painter. What do you paint? I asked. "Monk," he said. "Monk with umbrella." Handmade?
Well, yes, technically. Put together by human hands. As is an iPad. But there's a reason people search Etsy for OOAK — One Of A Kind — objéts. How can you be a special snowflake if your stuff is the same stuff on Overstock.com?
The Maker Fakers: As Etsy Scales, the Definition of 'Handmade' Gets Slippery [Observer]
Image via Ecologica Malibu