Escort is a 17-member disco orchestra that puts on one hell of a live show. They're also a group of socially conscious musicians that cares about today's issues, such as sexism, homophobia, and equal rights. And in their new video, premiering on Jezebel, they want you to know that there's only one way to live your life: authentically and without fear.
Jezebel spoke to Eugene Cho (one of the founders of the group) and Adeline Michèle (Escort's frontwoman and vocal powerhouse) about the idea behind their music video, their somewhat lengthy hiatus between albums, and what they hope to achieve with the new record, which Michèle feels is the group's "tipping point." With this album, both Cho and Michèle want to reach as many people as possible. And with the impressive work they've done before, as well as the global following they've built, it's likely they'll get their wish, indoctrinating more people than ever with their rich, upbeat grooves.
One of the most exciting things about Escort, besides the fact that they're working on revolutionizing disco—"It's not about making something old new," Cho says—is that the group, which has received accolades worldwide, does everything on their own, foregoing big studio labels in order to remain true to their sound and their vision. That, Michèle says, is something she'd never give up. And while she knows that it's been a while between the release of their last album (2011's self-titled LP) and Animal Nature—their latest record, out today—she doesn't like to look at the time in between as a measure of how hard the artists are working. The reason this album has taken almost four years to craft is because, as independent artists, they say they wanted to make it perfect. "There's no filler," Cho says, alluding to the fact that the entire album is full of tracks that will make you get up, dance, and think. "It's perfect for anytime," Michele adds. And she's not exactly wrong about that. While I don't know if I'd be getting down to the banging sounds of a disco orchestra as I'm trying to fall asleep, Escort's music is an excellent way to start your day (even if you woke up on the wrong side of the bed.) (Try it as you're grumpily getting into your shower on Monday.) (I did.) (It worked.)
The lead music video from the Animal Nature, "My Life," is no exception to the "no filler" rule. Following the story of a small girl as she dances around New York feeling herself, Cho says the video's concept was loosely based around the life of jazz singer Anita O'Day. Don't worry if you don't get that just from watching it—Cho says it's more of an idea rather than a full-blown biopic—because the main message here is to do you and be free. "What other way is there to live?" Michèle says. "I couldn't live any other way."
Why is Anita O'Day the inspiration? According to Cho, it's because of her long career and her uncompromising sense of self. Cho says she's one of the few jazz legends who lived a long and fulfilling life, and that's definitely something to celebrate. And what better way to represent authenticity and freedom than by making the star of the video a child? But this isn't just another Maddie Ziegler flitting around a Sia video. The child in this video is not a polished singer/dancer; she's the kid of one of Cho's friends (whose own daughter has a small part in the video). The band wanted someone who wasn't already polished and rehearsed and, most importantly, the kid also needed to resemble Michèle, because the two meet in the video. It's a project that's close to the group's hearts, and one they say they're grateful to have had made themselves, a great example of the outfit's dedication to putting out strong work without compromising their ideals.
G/O Media may get a commission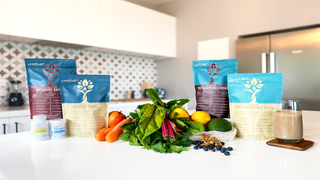 You can check out the premiere of Escort's video for "My Life" above and get Animal Nature at any of the major online music retailers.
---
Contact the author at mark.shrayber@jezebel.com.