Erykah Badu's remix of Drake's relentless radio hit "Hotline Bling" went viral earlier this year, despite the millions of other remixes, largely thanks to its body roll-worthy bridge and jokes. Oh, the jokes:

"If you're calling to ask for some tickets in a city near you and KNOW she don't really fuck with you like that, press 7..."
Badu's sense of humor is her crown jewel; she seamlessly blends it into her music with the sensibility of a performance artist. In the early aughts, for example, she performed at Radio City Music Hall in a unitard while acting out "Green Eyes" with several giant exercise balls. No one knew what the fuck she was doing but it was engaging and humorously confusing—something only Badu could get away with. Her imaginative discography continues in that vein, routinely blending R&B, soul, Jazz, rap and romance with an African American Studies class syllabus while giving a nod to whatever's playing around the neighborhood. It allows Badu to flit between futuristic R&B alongside Janelle Monae, fragrance advertisements for Tom Ford, Soul Train Awards host duties and Dirty South chopped and screwed music. She's committed to her own art, whether the listener gets it or not.
Today, her comedic genius shines through in deadpan Power 105 appearances and Us magazine interviews, where she pokes fun at her well-known romantic history with Andre 3000, The D.O.C. and Jay Electronica—and their respective three children—while kissing off anyone who would shame her for having a few kids with a few different men. She told Us:
"The best thing about my ex Andre 3000 is that his checks never bounce."
What's not to love?
On But You Caint Use My Phone, the Dallas-bred musician's new phone-themed mixtape, Badu mines this sense of humor and reaches back to her first "mixtape," 2003's Worldwide Underground, where each song groovily ran into the next without separation. As an unashamed Badu fan who wore head wraps with my Howard University sweatshirt at my mostly white high school—baffling my Oasis obsessed classmates in their Doc Martens—I was furious with Badu when I learned Worldwide was just an EP and not a proper full-length album like Baduizm or Mama's Gun. Though it's sometimes listed as her third full-length album, the format of Worldwide was much more experimental than her previous work. How dare she toss thirsty fans like me crumbs after the beauty of her first two LPs and a three-year wait? But after listening to Worldwide, tracks like "I Want You" and "Love of My Life Worldwide" snuck into my brain and became the soundtrack I couldn't leave behind. But You Cain't Use My Phone follows the same path, much like Badu's career itself. The singer and new producer Zach Witness reportedly recorded one Cain't song each day in the singer's living room and captured her performances in one take.
The mixtape kicks off with a dreamy remix of Badu's famous 1997 hit "Tyrone," remodeling the original's melody and bass line with dial tones. Back in the late 1990s, the brassy single blew across the country as the breakup song du jour, dedicated to raggedy partners who "don't never buy me nothing"—a natural kinship with the dismissiveness of "Hotline Bling." After getting her feel for the "frequency of the music" with that cover, she began pulling from Drake and Noah "40" Shebib's signature sparse, slightly sad and wintry Canadian sound for tracks like "Phone Down" and "U Use to Call Me."
On "Mr. Telephone Man," she pulls from New Edition's 1984 hit and stays on the mixtape's phone theme while maintaining a distant, cloudy Chicago step-ready groove. "U Don't Have to Call" pulls up a bit of Blood Orange's sparse production over a redux of Usher's 2001 original (never forget when that grown man wore sneakers with wheels), while "Medley: What's Yo Phone Number/Telephone" sinks deliciously into chopped and screwed molasses and perks up her original melancholy memorial to the late producer J. Dilla. A sample of local Lonestar legend Z-Ro also shines alongside lyrics from newcomer ItsRoutine, an MC on Badu's label Control Freaq.
The standout track, though, is "Hello," a new collaboration with Andre 3000 and a nod to the Isley Brothers' "Hello It's Me." From videos like "Otherside of the Game," "Next Lifetime" and "In Due Time" to the ensemble performances of "Humble Mumble" and "Liberation," it's a welcome new addition to the Badu-3000 pantheon. They sing in unison:
"I never want to make you change for me, baby. Don't change, don't change, squirrel, for me babe."
G/O Media may get a commission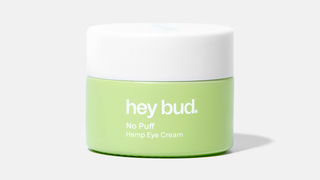 15% off
Hey Bud - No Puff Hemp Eye Cream
The pair's artistic rapport shines through harmonious notes as "Hello" bounces from 16 bars to the crush-worthy chorus—like But You Cain't Use My Phone as a whole.
In the shadow of her canon that's navigated everything from the complex plight of African Americans in this country (New Amerykah, Part One) to the simplest love song ("In Love With You"), Badu continues to push the envelope while rewarding her fans for remaining loyal—and after a nearly 20-year career, she's retained her deadpan sense of humor, key to her mystique.
---
Contact the author at Hillary@jezebel.com.
Image via AP.Contact the author at Hillary@jezebel.com.
Image via AP.