In addition to Breitbart, Drudge Report, InfoWars and Fox & Friends, the president has an ally in David Pecker, the CEO of American Media, Inc., which owns the National Enquirer, the Star, the Globe, the Examiner, OK!, RadarOnline, and, as of a recent and controversial acquisition, Us Weekly, which has quickly joined A.M.I.'s other properties as another vehicle for fawning Trump family propaganda.

According to a new profile by the New Yorker's Jeffrey Toobin, Pecker is unapologetic about his ties to the president, with whom he created the short-lived quarterly magazine Trump Style in 1997 while Pecker was president of Hachette Filipacci Magazines. This friendship, or whatever you want to call it, isn't much of a surprise—Trump also has a close alliance with media emperor Rupert Murdoch, and has ties to TMZ's Harvey Levin, who hosted a Fox News special on Trump's home and was recently granted an Oval Office meeting (TMZ coverage has been notably friendly towards Trump, with the generally reliable outlet at one point publishing an inaccurate story on voter fraud).
During the 2016 campaign, Trump actually wrote columns himself for the Enquirer, which was busy publishing headlines like "Donald Trump's Revenge on Hillary & Her Puppets" and "Hillary: Corrupt! Racist! Criminal!" And although the Enquirer's official readership is relatively small, with a weekly circulation of 342,071, its memorable covers command real estate in many of the 37,000 supermarkets across the country, part of what Politico described as the "constant cultural background noise" of American life.
The New Yorker opens with a meeting in which Enquirer staffers bring up the viral video of Melania slapping Trump's hand away in Israel as a potential story for the following week's issue:
"I didn't see that," Pecker said, on the speakerphone.

The half-dozen or so men in the room exchanged looks. One then noted that the footage of Melania's slap had received a good deal of attention.

"I didn't see that," Pecker repeated, and the subject was dropped.
Pecker claims that the Enquirer's curiously consistent support for Trump—despite its storied history of needling politicians and celebrities of all stripes—is a reflection of its readership, who he says almost exclusively voted for Trump. If this is the case, he's gone above and beyond to cater to their interests; a former Enquirer staffer described Trump to the New Yorker as "the ultimate target-rich environment. The Enquirer had a golden opportunity, and they completely looked the other way." Last year, according to a Wall Street Journal report, the National Enquirer paid former Playboy Playmate Karen McDougal $150,000 for the rights to her story of an affair with Trump and then never published it. Here's what Pecker told the New Yorker:
"When her people contacted me that she had a story on Trump, everybody was contacting her," he said. "At the same time, she was launching her own beauty-and-fragrance line, and I said that I'd be very interested in having her in one of my magazines, now that she's so famous." But Pecker had a condition for hiring her: "Once she's part of the company, then on the outside she can't be bashing Trump and American Media."

I pointed out that bashing Trump was not the same as bashing American Media.

"To me it is," Pecker replied. "The guy's a personal friend of mine."
Alarmingly, Pecker also expressed interest in purchasing the beleaguered Time, Inc., which houses over 100 non-tabloid brands including People, Time, Sports Illustrated, Entertainment, Fortune, HelloGiggles, InStyle, Essence, and Departures, and, at least in Toobin's estimation, there's a real possibility of that happening. The new media landscape that's financially kneecapped the old print guard and allowed for the spread of fake news and politically siloed outlets appears to have also rendered that old guard uniquely vulnerable to takeover by the allies of a man who's long yearned for their stamp of approval.
G/O Media may get a commission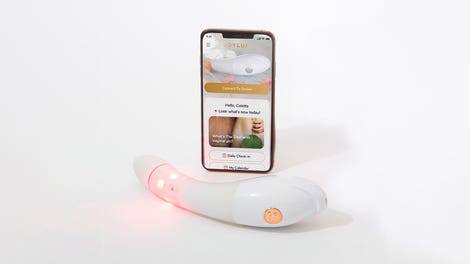 $50 Off
Joylux vFit Gold Device
Read the whole story here.