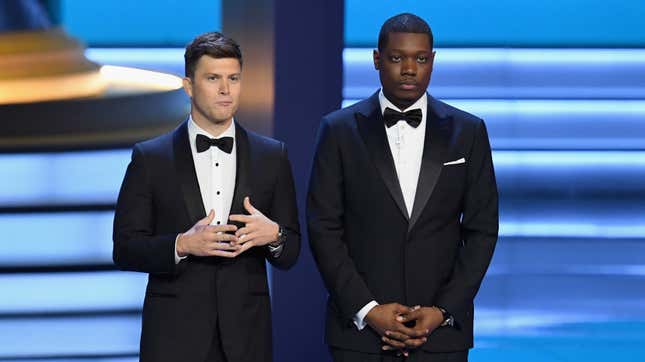 The possibility of the no-host award show—in which the broadcast moves along seamlessly without a designated emcee, each individual presenter simply doing their job and passing the baton on to the next—might get more popular. Similar to this year's Oscars, the Emmy Awards producers are also considering going host-less, according to "insiders" who spoke to Variety.
Michael Che and Colin Jost hosted the 2018 Emmys, and they were fine (our Jezebel liveblog has reminded me that they opened with a cheesy, tongue-in-cheek song about racism in the entertainment industry), but surely we can all agree that the Emmys would have done alright without them. Variety's sources pressed that the Emmys are holding out hope that "the perfect host may still come along," to which I say, they should stop waiting, make the first move, and ask Maya Rudolph.
There have been so many mediocre or plain bad award show hosts in my lifetime that the case for ditching the host position altogether is becoming more and more compelling. Jezebel's Megan Reynolds has consistently suggested that a Masked Singer could make any award show more fun by hosting, and while I didn't initially care for that much orchestrated chaos, I've come around. The no-host award show could be an opportunity for networks to get freaky with it.