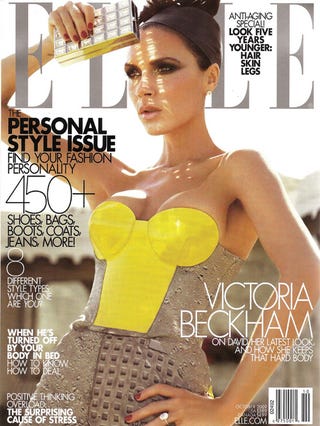 Model Amber Rose has her own photo spread in the October issue of Elle magazine, but unlike some of the other celebrity types inside, Kanye's ladyfriend didn't exactly get the "high fashion" treatment.
The story, shot by Dusan Reljin, opens — ahem — with a crotch shot. Now, a crotch shoot in and of itself is not necessarily low brow, but those jean shorts? In a hotel room? With the words "naughty by nature"? It just doesn't look very high end.
The very next image is not much better; Amber's famous asset is the focal point, instead of her absolutely glorious face. She's been signed by Ford, and she is capable of having a fresh, clean look. this ain't it.
While there's nothing wrong with Amber Rose showing off her famous derriere, there is a problem with it being in Elle. Because, in the context of a fashion magazine, it doesn't seem right, it doesn't seem "fashion." All we ever see of Amber Rose is her posterior. We've seen Kanye grab it, Madonna touch it, and Complex put it in a cage. As LaToya wrote about black models pictured nude while white models are photographed clothed, "It's about the roles of black women in fashion being limited to animals, sex objects, and advertising, but banned from higher fashion and catwalks." Elle had the chance to photograph Amber Rose like we've never seen her before — in couture, maybe, or just a head-and-shoulders beauty shoot. Instead, they chose to sexualize an already sexualized model. What's new, fresh, inventive, interesting about that?
This shot of Amber lying submissive on a bed — with the camera looming over her from the position of power — is almost as disheartening as the ass shot. What's additionally upsetting is that there are other celebrity models inside, and they are not photographed this way.
Posh, of course, gets the Posh treatment. Amber Rose would probably look amazing in a $3,000 cashmere dress, but they just didn't give her the chance.
Or, if they wanted to go sexy with Amber, why not sensual and cinematic, like (former model) Diane Kruger's shoot?
Better yet, they could have turned Amber's overtly feminine physique on its head and put her in menswear, as they did for (former model) Jamie King.
It's not that they didn't pull some good stuff for Amber's shoot: Her sunglasses are Fendi; the butt-baring bodysuit is $3,775 from Giorgio Armani; the dress on the bed is Blumarine, ringing up at $4,255. But the concept, vision and execution of the shoot is a shame, and a waste. But maybe you saw on the first page: It was styled by Kanye West.