The leader of the pearl-clutching "pro-family advocacy" group One Million Moms has reluctantly ended its boycott of JCPenney after the retailer (under pressure from a social media furor and GLAAD) stood by its decision to appoint Ellen DeGeneres as its spokesperson.
The director of the group, Monica Cole, says that the group has moved on to other petty social issues, but offered a parting jab before getting on her self-righteous high horse and riding into the sunset:
But we have heard back from so many of our members. We have heard back from men and women — not just moms — saying they will no longer shop there at JCPenney, as long as Ellen DeGeneres is their spokesperson.
Ick. Cole added that JCPenney's god-fearing consumers "want to spend their money with companies that have the same values as them," which they clearly can no longer do at JCPenney since the retailer chose a spokesperson who, as a gay woman, somehow cannot embody the good Christian, conservative [sic: medieval] values of the store's Christian founder. And by the way — Cole thinks it's interesting that Fitch Ratings recently downgraded JCPenney's credit rating to "junk," a downward trend I'm sure has everything to do with the retailer reaching out to a popular celebrity pitch woman and nothing at all to do with all that Christian loot they're losing out on.
[HuffPo, One News Now.]
---
G/O Media may get a commission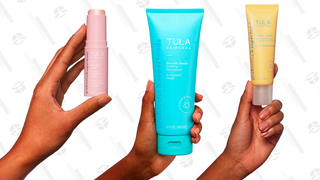 If you think Linsanity is wild now, just wait until the Jeremy Lin motion picture hits an art house theater probably not very near to you. Lin has made fans out of such celebrities as Fabolous, Manny Pacquiao, and Michael Rapaport, the latter of who has it on good authority that a Lin documentary is an imminent possibility: "Jeremy Lin is definitely going to get a documentary. I don't know if Spike Lee's claimed the rights to it or whatever - I know he's been all over that." Rapaport then tempered his enthusiasm by adding that this documentary might just be "an ESPN 30 for 30." Even though Spike Lee would probably make a great basketball documentary, — about a Knicks player, no less — wouldn't you rather see this fabled film in the hands of someone who has a little more in common with Lin, in so far as his involvement would seem, like Lin's rise to fame, unprecedented? Someone, say, like Werner Herzog, whose stern, Bavarian cadence I can already hear over a slow-motion shot of Lin dribbling in an empty gymnasium: "Jeremy Lin is and athlete both deft and brilliant, not at all like the chicken, an animal I despise for its clumsy stupidity." [MTV]
---
Jwoww is being sued by her former landlord Stuart Levin to the tune of $150,000, but perhaps her current legal woes can teach us all a good lesson about carefully reading our apartment leases. The reality star rented one of New Jersey's many post-apocalyptic style homes back in 2008 and promptly invited 495 Productions in to film one of the very first scenes of the very first Jersey Shore season. Unknown to Jwoww, however, was the fact that she did not have the authority to use the house for commercial filming. So, before your web series really takes off or you really get serious about that insightful post-college documentary about underemployment you were going to break through with at Cannes, read the rental lease that you've no doubt filed carefully away in a pile of miscellaneous papers. [TMZ]
---
Kelsey Grammer and his hesitant beard have purchased a home near his ex-wife Camille Grammer in Beverly Hills so they can continue to menace Grammer's children with itchy cheek-kisses. [TMZ]
---