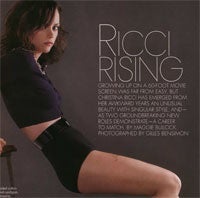 height="198" class="left" />Last month, Elle ran a fashion spread called 'Stand and Deliver' featuring a model wearing a pair of what appeared to be the sort of body-slimming undergarment that never fails to bestow upon us a string of urinary tract infections lasting pretty much all through the
summer wedding season. Glamour followed suit (pun!) this month.
Aparently it is now acceptable to wear these things as actual clothes as long as they are made by Prada, which we think is really great for the gender, especially when we see them on role models like Christina Ricci, who as everyone knows has a long-standing super dooper relationship with her body. Now, if we could only Photoshop our thighs in real life!
After the jump, more hot girdle-on-girl action.


src="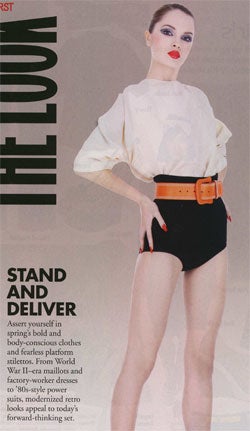 " width="250"
height="431" class="right" />Here we have the initial offending story. The
text reads "Assert yourself in spring's bold and body-conscious clothes and
fearless platform stilettos. From World War II-era maillots (note to
self: what the fuck are those?) and factory-worker dresses to
'80s-style power suits, modernized retro looks appeal to today's
forward-thinking set."
Modernized retro...that's one way of euphemizing "grandma panties"!

src="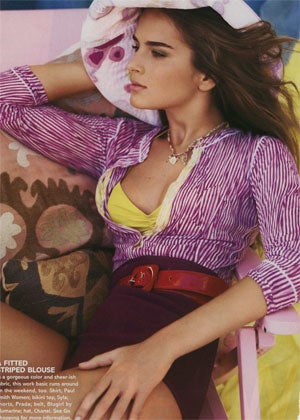 " width="300"
height="420" class="left" />Here we have Glamour's softer and
decidedly de-politicized approach to the girdles as clothes trend, in a
fashion spread on how to dress on vacation in the inevitable situation that
you find yourself invited to a "sexy hedge fund manager" themed beach party.