The news that Elle Magazine style director has been [cough cough!] "let go" from the magazine marks the 18th staff exit (voluntary or otherwise) from the magazine in the past 6 months. Yup, in the time since Jennifer Garner graced the cover of the January 2007 issue, a whopping 29% of the magazine's staff has left. We'd say the magazine's new creative director Joe Zee just must be behind all of this, but perhaps the Elle flock are fleeing all by themselves? A cursory look at the departures — compiled by someone who would know, wink wink — yields few clues.
From the top of the masthead down:
1) Guillaume Bruneau, former Art Director: Ousted for Friend-of-Zee and new Design Director Paul Ritter
2) Isabel Dupre, former Style Director: No room in the budget for Elle to send her to the couture shows? No room in the budget for Elle to keep her on staff!
3) Carlyne Cerf de Dudzeele, former Fashion Editor-at-Large: Mysteriously disappeared from the masthead... last seen somewhere in France?
4) Silvia Sitar, former Fashion Market Editor: Yet another victim of "budget cuts." And Page Six blasphemy.
5) Jessica Karcher, former Assistant to Fashion Director Nina Garcia: Decided to swap career in making dinner reservations for associate market editor position at Harper's Bazaar.
6) Meredith Goforth, former Bookings Assistant: No more models for her. Now doing beauty PR.
7) Deborah Shapiro, former Research Director: Details unknown
8) Danielle Nussbaum, former Articles Editor: Now Senior Entertainment Editor at Teen Vogue
9) Jenny Feldman, former Senior Fashion News Editor: Traded working for Anne Slowey for being her own boss as Fashion News Director at Nylon.
10) Susan Cernek, former Fashion News Editor: Buh-bye print, hullo internet! Founding Fashion Editor of Glam.com
11) Amy Har-Evan, former Associate Articles Editor (Copy): Still in the Hachette family, now Copy Chief at Elle Decor
12) Lindsay Talbot, former assistant to Fashion News Director Anne Slowey: Bolted from Elle in less than six months time, Talbot is now Nussbaum's assistant at Teen Vogue
13) Jennifer Gerson, former assistant to Roberta Myers: Left in April. Wonder where she is now?
14) Meaghan Schwarting, former Associate Beauty Editor: Who wants free beauty products when you can teach children?
15) Sheila Mikulski, former Assistant Managing Editor: Details unknown
16) Nadia Lachance, former Photo Assistant: Got hitched
17) Jennifer Schonborn, former Executive Editor, Elle.com: Ousted for Friend-of-Zee Keith Pollock
18) Carol Han, former Fashion Assistant: Moved from print side to Market Editor position at Elle.com
Tally: 4 likely Joe Zee-related firings, 14 flights of fancy. But lest anyone think that Zee is done wielding his designer machete, think again: More firings may be coming soon!
Creative Stress [PageSix]
Earlier: Maybe Anne Slowey Only Eats Olives Because That's All She Can Afford On Her Elle Paycheck
G/O Media may get a commission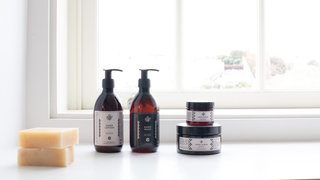 Exfoliate and Hydrate
The Handmade Soap Company