Yet another victim of the New of the World phone-hacking scandal has emerged: Elle MacPherson's former business advisor and friend, Mary-Ellen Field. Field testified before the official inquiry into the scandal that she was fired by the supermodel, who wrongly believed Field was leaking personal information about her to the tabloid press. In fact, the News of the World had hacked MacPherson's voicemail. Even more strange, before letting Field go, MacPherson allegedly pressured Field into going to rehab for alcoholism — which, as the clinic staff would later confirm, she didn't suffer from:
"I phoned Elle. For the first time ever she was really grouchy with me. 'I can't have you speaking to the media', she said."

Field said the model told her at a meeting shortly afterwards: "'I know what's it like to be an alcoholic.' I was speechless." She added that Macpherson "broke me down" until Field reluctantly agreed to attend a rehab clinic in Arizona, Meadows Clinic, used by Macpherson, describing that decision as "a big mistake."

"Elle made it out like it was a leisure facility but it was a grade-1 psychiatric facility with men with guns in holsters parading about so it was fairly horrible."
After Field returned from the Meadows Clinic, MacPherson fired her. Shortly thereafter she was fired from a firm where she'd been a consultant, on the grounds that clients no longer trusted her. Field says MacPherson never apologized, or even contacted her, since the hacking was uncovered. [Guardian]
Meanwhile MacPherson, who was one of the very first celebrity hacking victims identified, says she believes she's handled the whole situation very well by never speaking publicly about it. "I believe I've made the right choice," she says. "And I made that choice years ago, because I did not want to perpetuate stories. I did not want to be involved, I did not enter into the discussions whatsoever." [Telegraph]
---
One of Hailee Steinfeld's Miu Miu ads has been banned in the U.K. by the Advertising Standards Authority — the same body that banned Dakota Fanning's sexually suggestive Marc Jacobs ad — on the grounds that the 14-year-old actress is depicted lying on some railway tracks. And that's not safe. Kids, don't lie on railroad tracks just because Hailee Steinfeld did it in a magazine! [Telegraph]
---
G/O Media may get a commission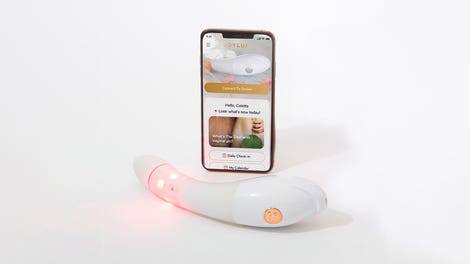 $50 Off
Joylux vFit Gold Device
Rodarte guest-edited the new issue of A Magazine. The brand put a grizzly on the cover, and Kirsten Dunst, John Baldessari, and Joss Whedon inside. [Style.com]
---
Freja Beha Erichsen and Arizona Muse, who together make a very smiley couple, were photographed while shooting the spring Chloé campaign this past weekend. That's what happens when you book two famous models to shoot a campaign at the Chateau Marmont in Los Angeles, we suppose. [Fashionologie]
---
Sasha Pivovarova did some drawings of flowers and women, which Gap printed on some underwear and loungewear. In stores now. [Modelinia]
---
Here's Rachel Bilson's line for ShoeMint. [Racked]
---
This is the new Keds clothing line, the first in the shoe company's history. It goes on sale at Opening Ceremony this Friday — we so thought Opening Ceremony would be above doing anything special for Black Friday, but what do we know! — and retails for $48-$400. [WWD]
---
Huh. So this is a completely see-through top, worn by a bra-free lady. Kudos for refusing to be a toady for Big Lingerie, but seriously? We would not wear this shirt to eat lunch. During the daytime. On Park Avenue. (Or anywhere.) Toplessness: back in style? [Mr Newton via The Cut]
---
Although Gisele Bündchen was reported to have shot the forthcoming Givenchy campaign in Jamaica last month, she was spotted on a photo shoot with Riccardo Tisci in Barcelona, wearing spring Givenchy. Fashionologie's post, which included paparazzi snapshots of the proceedings, has been taken down but is still cached for the time being. [Fashionologie]

Art photographer Mona Kuhn says doing the new Bottega Veneta campaign was no sweat. "There was no attitude. We did the work and finished early, around 3:30 p.m., and then I said, 'Oh let's just continue because, you know, we have everything here. Let's do some more.' They're like, 'Well, probably we don't need more because we have what we need, Mona.' And I said, 'All right, let me do a few images that I think I would do if it was me.' And that's actually when we did the campaign images that are coming out now." [The Cut]

In case Alfred Angelo selling licensed copies of the Twilight sparklevamp shiny backless wedding dress isn't enough for you, Carolina Herrera — the designer of the original dress — has announced she'll also be selling copies through her CHNY label. [Reuters]

Naomi Campbell is now an "editor-at-large" for the new Russian and German editions of Interview. Expect hard-hitting copy from the Ritz forthwith. [The Cut]

If your holiday shopping budget isn't already spoken for with "Brown Thursday" and Black Friday and Cyber Monday, spare a thought (and some cash) for Small Business Saturday. American Express will give you $25 off your credit card statement for shopping at a participating retailer. Of course, there's also International Buy Nothing Day. That is an option. [WWD]

Meanwhile, Abercrombie & Fitch and Hollister will be luring you into stores on Black Friday with an oversupply of shirtless dudes. [Racked]

Moody's just downgraded Avon's credit rating from A2 to A3. That's the lowest of the "A" grades. Last month, the SEC subpoenaed the beauty company over some alleged improper contact between top executives and Wall Street analysts. Are any business reporters' spidey senses tingling just now? Seems like there's more to this story. [WWD]

Eleven Singaporean modeling agencies have been fined for colluding to fix prices for photo shoots, image rights usages, and fashion shows, among other modeling work. [Reuters]

The Humane Society has filed a complaint with the Federal Trade Commission accusing eleven major retailers — including Dillard's, Neiman Marcus, Barneys New York, ShopBop, and Gilt Groupe — of false advertising by mislabeling fur items as faux fur. The Humane Society says testing at an independent laboratory confirmed in each instance that the clothing and accessories were made of actual fur. [WWD]

Model Snejana Onopka, 24, got married to a 29-year-old Ukrainian businessman in Kiev. She wore Vera Wang, and they had a chocolate cake covered in what appear to be firecrackers, which is actually awesome. [Fashionologie]

On February 7, Karl Lagerfeld is going to "guest-edit" Metro, that shitty free newspaper that litters the subway. [WWD]

Items from the hideous Versace for H&M collection have been popping up on eBay, but are not proving as popular as Target's Missoni collaboration. Missoni for Target spawned over 30,000 eBay listings, but Versace for H&M has only 7,000. [Racked]

McQ, the Alexander McQueen diffusion line, will for the first time be shown on the runway at the next London fashion week — signifying that the brand is graduating from the more casual presentation show format. [WWD]

Jezebel pal Megan Carpentier road-tested a pumpkin spice facial for Racked. It sounds...fragrant. [Racked]

Gilt Groupe is reportedly considering an initial public offering, perhaps for as soon as 2012. [FT]

Mario Boselli and the Italian National Chamber of Fashion may not be able to come to international agreements with its international peer organizations, like the Council of Fashion Designers of America, over such minor matters as next September's show season dates — but he can jet off to Tel Aviv fashion week and sign a symbolic "agreement of cooperation" between the two countries' fashion industries. Classy. [WWD]

Speaking of Tel Aviv and its fashion week, we clicked through this entire Roberto Cavalli show, looking for our friend and fellow nachos fan Zosia, because we know she was in it. But the HuffPo didn't put her in its slideshow. Lame. [HuffPo]

This Monday, Olsen twins and Kate Bosworth will be on your Facebook, trying to sell you clothes. [WWD]

The Times' Motherlode blog picked up the sexist children's apparel story. Which is, sadly, evergreen. [Motherlode]

And now, a moment with former Vogue accessories editor Filipa Fino, who is launching a fashion site that will combine editorial and e-commerce. Fino's great advantage? She says it's her experience:

"Like when I say something is 'so Calvin' I mean Calvin from when Calvin was there."