Massachusetts Senator Elizabeth Warren has some very strong, very pointed opinions about Republican frontrunner Donald Trump. Earlier today, Warren took to both Twitter and Facebook to share those opinions, calling Trump a "loser," a narcissist, a failed businessman, and "serious threat" that will "tear apart an America built on values like decency, community, and concern for our neighbors."
The tweets, sent from Warren's campaign account, are a passionately precise summary of the opposition against Trump: from his over-the-top self-promotion, to his questionable business record, and racism and sexism.

Unsurprisingly, Warren hit him particularly hard on his use of "strategic corporate bankruptcies," which allow corporations to shed off debt while maintaing holdings. Reforming corporate bankruptcy laws has been part and parcel of Warren's platform since she ran for Senate. She also appealed to our better nature, something that seems to have gone absent in this election, asking voters to reject Trump's ugly embrace of often xenophobic discourse.
G/O Media may get a commission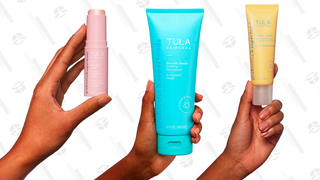 Certainly hearing it from Warren—a Senator who is undoubtedly popular on both sides of the fractured Democratic party—was welcome, particularly since she's largely refrained from endorsing or sharing opinions on the presidential race.
In her statement on Facebook, Warren added that the upcoming election is more than a brand-inspired spectacle; it will have a profound effect on individuals as well as the institutions that are often an economic cornerstone for working-class Americans:
"[...] Consider what hangs in the balance. Affordable college. Accountability for Wall Street. Healthcare for millions of Americans. The Supreme Court. Big corporations and billionaires paying their fair share of taxes. Expanded Social Security. Investments in infrastructure and medical research and jobs right here in America. The chance to turn our back on the ugliness of hatred, sexism, racism and xenophobia. The chance to be a better people."
No doubt that Warren's statements will elicit even louder "sighs" of regret from the Democratic electorate who wish that she was running.
Image via Getty.