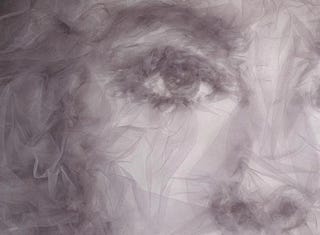 Elizabeth Taylor wasn't one for drama and excess — a nice country girl with a heart the size of the Nebraska fields she loved to till. Luckily, British artist Benjamin Shine decided to fancy up the old mare and display her in luscious waves of tulle. The effect is pretty damn majestic:
If I were a billionaire, you'd all be getting commissioned tulle portraits of yourselves for the holidays. Or commissioned tulle portraits of me, depending on how generous I'm feeling.
According to Design Milk, "Shine takes a single piece of tulle and proceeds to pleat, iron, and manipulate it into these hauntingly realistic portraits full of light, shadow, and dimension."

Check out the fabric master at work:

These are dope. I'll take three of my gorgeous mug and five of my each of my dogs, please!